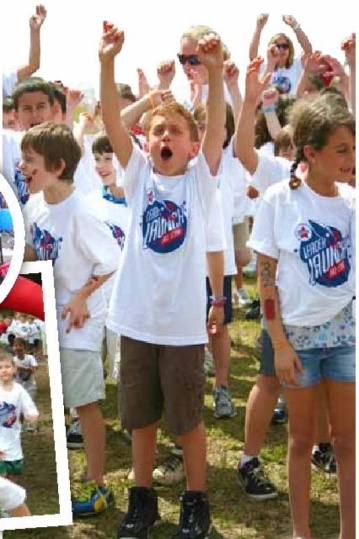 New Fundraising Initiative Teaches Boca Raton Students About Fitness, Leadership and Character!
Several local schools are taking part in an innovative solution to school fundraising with the Boosterthon Fun Run this school year. Verde Elementary School in Boca Raton hosted this energetic group to build character and raise funds for their schools.
The Boosterthon program is a 9-day experience that teaches students about fitness, leadership and character – a big switch from product sales and catalogues that have dominated school fundraising in the past. The culminating event, the Boosterthon Fun Run, invites students to run laps on the Boosterthon Speedway. Students gather pledges for each lap they run to raise funds for technology improvements, new playground equipment, classroom and teacher resources, and more. In addition to running laps, many community members and parents attend the event to cheer on the students and support the school.
In eight days prior to the Boosterthon Fun Run, students learn values based on Boosterthon's annual character theme. This year's theme, "Leader LAUNCH," teaches students that leaders are... Learners, Active, Uplifting, Not Bullies, Courageous and Helpers.
Principal of Verde Elementary, Ira Margulies, said that the Boosterthon Fun Run was the most successful fundraiser Verde Elementary has ever had. Not only was it a great experience for the school, it was extremely simple to plan and execute.
"The Boosterthon staff was on campus for two straight weeks and took care of all the work by motivating students, distributing materials and collecting pledges. They taught our students about building leadership skills and the students… and the teachers, I might add, had great fun," said Margulies. "We are all looking forward to working with Boosterthon again next year. Great fun, great people, a minimal amount of work for the staff and lots of money. It was a principal's dream."
The company puts on the Boosterthon Fun Run in schools across the U.S. with the hope to rewrite and redefine the fundraising industry as a more-than-profit model serving schools and students. To date, more than 1,100 schools have participated in the Boosterthon program, raising $60 million.
As school funding continues to decline in schools across the U.S., and childhood obesity continues to rise, more schools are turning to Boosterthon's leading, healthy alternative to school funding and their proven track record of increasing school profits by more than 75 percent.
"Boosterthon helps schools raise funds and gets kids active," said Chris Carneal, Boosterthon's founder and president, "but more than the fitness and financial benefits, the big win is what students gain by way of character."
For more information, visit http://boosterthon.com.
By Lauren Locher Was born in Alpharetta, Ga. and currently resides in Athens, Ga., home of the University of Georgia Bulldogs. She enjoys spending time with family and friends, relaxing at the beach, trying out new recipes and crafting.