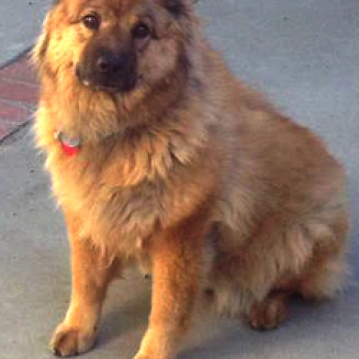 When I got my dog, I was going through a divorce. I thought getting a pet would not only create a diversion for my kids but it might offer us all some comfort during a very difficult time for our family.
We chose Merrick (or, she chose us) very easily.
Her calm demeanor and easy way with the kids made her a shoo-in to be the newest member of our broken little family. The kids took to Merrick right away, and she fell in love with them too.
What I never could have foreseen was that Merrick helped me, too. She helped me get back on my feet and recover from a broken heart. When I was worried about signing my divorce papers or on the phone with my lawyer, Merrick would let me know she was right there next to me as I rubbed her head while I spoke on the phone.
Lonely nights when I missed my ex-wife, were made a lot easier with Merrick´ s furry, soft body lying next to mine. Petting her fur became part of my night and helped reduce my anxiety.
SOMETHING TO THING ABOUT:
Has a pet family member restored the emotional balance to your home?
Hearing the kids laughing and playing in the yard with Merrick soothed my heart and made me smile. My kids were very unhappy when my wife and I decided to get a divorce. Bringing Merrick into our lives helped all of us begin to heal.
I have heard before that people with pets are happier, and I believe that this is true. Going through a divorce is a difficult, life changing experience not only for the grown ups but for the kids
involved as well.
Merrick helped all three of us heal in her own way. When we were hurting, her fur soaked up all of those painful tears.
Making Merrick a part of our family helped close the hole that was left when my wife left, and created
a new, positive part of our family´s story. I can ´t wait to see what life with Merrick will be like as long as we are all together.
Visit www.angelanimals.net/nlimage100.html to see a photo of Merrick.
ANGEL ANIMALS By Allen and Linda Anderson About Angel Animals
"Angel animals teach by example how to work for a greater good.
With their ability and willingness to serve and give, they demonstrate the spiritual qualities that inspire people to become better human beings than they ever thought they could be. Perhaps angel animals show how to respond to a greater calling and help someone who needs it."
--Allen and Linda Anderson Angel Animals Network -- Where Pets Are Family. www.
angelanimals.net www.adognamedleaf.com
BIO
Ronald Hinde says he "thanks God every day for my blessings." His shop is www.petsless.com .