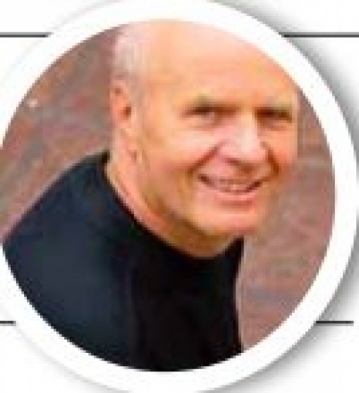 DISCOVERY ZONE
Known as the "father of motivation," Wayne Dyer is one of the most widely respected people in the field of self-empowerment. He became well known with his best-selling book Your Erroneous Zones and has gone on to write many other self-help classics. Dr. Dyer has a Doctorate in Counseling Psychology. www.drwaynedyer.com
During the past several years, I've been so strongly attracted to studying intention that I've read hundreds of books by psychological, sociological, and spiritual writers; ancient and modern scholars; and academic researchers. My research reveals a fairly common definition of intention as a strong purpose or aim, accompanied by a determination to produce a desired result. People driven by intention are described as having a strong will that won't permit anything to interfere with achieving their inner desire; I imagine a sort of pitbull kind of resolve or determination. If you're one of those people with a never-give-up atti tude combined with an internal picture that propels you toward fulfilling your dreams, you fit this description of someone with intention. You are, most likely, a super-achiever, and probably proud of your ability to recognize and take advantage of opportu nities that arise.
For many years I've held a similar belief about intention. In fact, I've written and spoken often about the power of intention being just what I've described above. Over the past quarter of a century however, I've felt a shift in my thinking from a purely psychologi cal or personal-growth emphasis, toward a spiritual orientation where healing, creating miracles, manifesting, and making a connection to divine intelligence are genuine possibilities.
This hasn't been a deliberate attempt to disengage from my academic and professional background, but rather a natural evolution that's been unfolding as I began to make more conscious contact with Spirit. My writing now emphasizes a belief that we can find spiritual solutions to problems by living at higher levels and calling upon faster energies. In my mind, intention is now something much greater than a determined ego or individual will. It's something almost totally opposite. Perhaps this comes from shedding many levels of ego in my own life, but I also feel the strong influ ence of two sentences I read in a book by Carlos Castaneda. In my writing life, I've often come across something in a book that starts a thought germinating in me that ultimately compels me to write a new book. At any rate, I read these two sentences in Castaneda's final book, The Active Side of Infinity, while I was waiting to have a cardiac procedure to open one clogged artery leading into my heart that had caused a mild heart attack.
Castaneda's words were: "Intent is a force that exists in the uni verse. When sorcerers (those who live of the Source) beckon intent, it comes to them and sets up the path for attainment, which means that sorcerers always accomplish what they set out to do."
When I read those two sentences, I was stunned by the insight and clarity it gave me about the power of intention. Imagine that intention is not something you do, but rather a force that exists in the universe as an invisible field of energy! I had never considered intention in this way before reading Castaneda's words.
I wrote these two sentences down, and then I had them printed on a card and laminated. I carried the laminated card with me into the catheter lab for my minor surgical procedure, and as soon as I could, I began talking about the power of intention to everyone who would listen. I made intention a part of every speech I gave. I immersed myself in this idea to use it, not only for my healing, but to help others use the power of intention to carry them where they're fully equipped to go. I had experienced satori, or instant awakening, and was intent on offering this insight to others. It had become clear to me that accessing the power of intention relieved so much of the seemingly impossible work of striving to fulfill desires by sheer force of will.
Since that defining moment, I've thought of the power of intention in virtually all of my waking hours - and books, articles, conversations, telephone calls, items arriving in my mailbox, and arbitrary works I might be looking at in a bookstore seemed to conspire to keep me on this path. So here it is: The Power of Intention. I hope this book will help you view intention in a new way and make use of it in a manner that leads you to define yourself as Patanjali suggested more than 20 centuries ago: "dormant forces, faculties, and talents come alive, and you discover yourself to be a greater person by far than you ever dreamed yourself to be."
Patanjali's two words, "dormant forces," kick-started me in the direction of writing about intention.
Patanjali was referring to forces that appear to be either nonexistent or dead, and he was referring to the powerful energy a person feels when inspired. If you've ever felt inspired by a purpose or calling, you know the feeling of Spirit working through you. Inspired is our word for in-spirited. I've thought long and hard about the idea of being able to access seemingly dormant forces to assist me at key times in my life to achieve an inner burning desire. What are these forces? Where are they located? Who gets to use them? Who is denied access? And why? Questions like these have propelled me to research and write this book and subsequently arrive at a totally new perspec tive of intention.