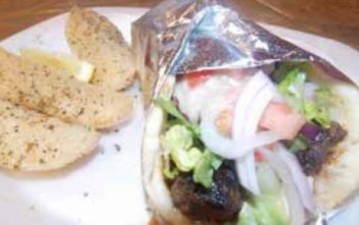 OxSouvlaki Fast is quickly becoming a household name in Boca Raton. On a late Tuesday evening when most restaurants are on the way to an early close, this gourmet hotspot was packed with famished diners and a flow of patrons picking up scrumptious Greek delicacies from a newly expanded menu.
The cheerful space is divided into two areas: an open kitchen on one side running the entire length of the dining room. The other portion provides seating at a cluster of stylish tables. The rear wall is decorated in vibrant orange with one section bearing (in Greek) the names of Grecian cities and the other (also in Greek) the items on the menu.
The current menu brings together an array of Greek favorites supplemented by American Fare (burgers, chicken fingers, etc) A sizable number of blackboard specials widen the choices considerably and may change on a daily basis For starters, we opted for the Sampler ($8), an assortment featuring homemade hummus, tzatziki, spicy feta and the town´s best dolmades (tender grape leaves stuffed with meatless seasoned rice). An abundant supply of warm pita rode alongside.
Spinach pie ($8 with Greek Salad) is a gourmet treat that we all gleefully shared. The bountiful crispy layers embracing a scrumptious blend of spinach, feta and seasonings is a must have, Pair it with the Corfu Salad ($8) overflowing with walnuts, dried cranberries, feta and crispy Romaine Mousaka with Salad ($11.99) is a masterfully constructed blend of potatoes, eggplant, ground beef and bechamel sauce that will enchant you palate and have you wishing for more. Wedges of warm pita plus a Greek salad make this feast a great value.
Rib eye Souvlaki Pita ($9) overflows with tender cuts of succulent beef. Despite the intense flavors of the tzatziki, feta and dressing, the pristine quality of the rib eye came across with a delectable purity. The ever popular Chicken Souvlaki Pita ($7) is always outstandingly delicious due to the scrumptious flavor of the perfectly grilled marinated chicken.
Nothing is more pleasing than to find desserts that are up to the standards of the mains. Baklava comes in many shades of delicious, but until you have tasted the Baklava Cheesecake and the Chocolate Baklava Cheese Cake you can´t appreciate how versatile the honey and nut infused phylo treat can be., With the addition of the Kourabiedes (wedding cookies) and cuts of fragrant Baklava, we experienced a quartet of desserts without equal. Just as impressive was the fast and friendly service.
Six days out of the week, there are daily specials for $5 or$ 6. The Sunday special is for kids (under 12) who get to eat free with purchase of an entree. For more information, log onto www,souvlakifast.com
625 North East Spanish River Boulevard • (Tel) 561-338-8855 • Open Daily