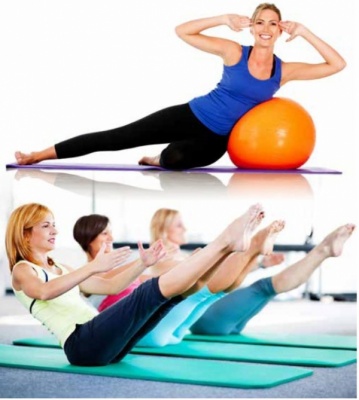 Major physical trauma such as a serious spine injury followed by surgery, fusions, and rods or plates can cause serious apprehension when just thinking about exercise. Is there even anything that can be done given how much care and attention must be given to protecting the spine? What can you do and how do you know if what you're feeling is good or bad? Should you stretch or not? When are you ready to strengthen again? And what can you possibly do if pretty everything moves or compresses the spine? And finally, what if you want to do something but you're still a little afraid?
First and foremost, a doctor will be clear about telling a patient what he can or can't do; it is up to the patient to listen. Second, although still wary, one must be emotionally ready to start an exercise program. Third, it is very important to work with an experienced trainer, to work slowly, and pay very close attention to form and alignment; patience is absolutely necessary. But even with all these boxes checked off, where do you start?
One of the best and unique things about Pilates is how it trains the body to use the abdominals to stabilize the spine and lessen spine compression. Furthermore, there are hundreds of exercises where there is absolutely no movement in the spine but that work abs, arms, and legs… and work them hard. This all without moving or compressing the spine.
For example, one of the first exercises in Pilates, the Hundred, is a very simple-looking but quite challenging exercise. One lies down on the back while holding on to spring-loaded ropes, pulls his legs up over the hips, curls up into a crunch, and then pumps the arms without moving the rest of his body of the moving carriage he is lying down on. This creates deep abdominal, upper body, hip joint, and mid back work. Extending and firming up the legs also adds leg work. All this is done on a flat back with no movement in the spine.
The Hundred is one of many supine, seated, standing or prone position movements which do not move the spine but work the entire body. For someone afraid to move but wanting to start, this can be a very encouraging practice. Pilates offers resistance training, movement without "moving", and yes, even a nice sweat; inner work can be quite warming.
Post-injury or surgery, doing isometric and stabilizing work is a great way to rebuild strength in the body in a safe and effective way.
Larisa Klein • Wellness Achieved Studios • 3000 E Commercial Blvd., Ft. Lauderdale, Fl. 33308 • www.wellnessachieved.com • 954-600-9828 Larisa has been training in Yoga, Pilates, and functional weight training for 20 years since. 1997. She has extensive experience working with cancer survivors, people with various physical special conditions (joint/spinal injuries/operations/replacements/MS/etc.), internal special conditions (schizophrenia, drug/alcohol addictions) as well as triatheletes and Olympians. She is a black belt with full competition experience, a current practitioner of Kung Fu, and has an MA in Mathematics and a second BS in Alternative Medicine.