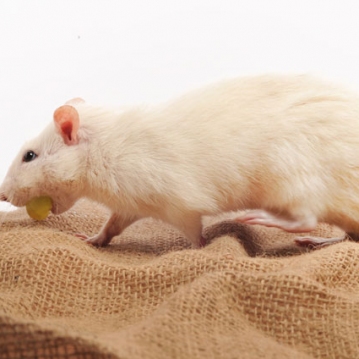 Fleur Wiorkowski / Fort Worth, Texas

To me, the concept of granting souls to human beings while denying them to animals has always seemed bizarre. This belief was reinforced for me shortly after Rat Rae, one of my first rats, died. The only downside I can see to caring for rats is their short life span. Two years is considered a very long life for a rat. Rat Rae had been sick from the day I adopted her, so her life lasted only a year and six days.
I'm a vegan. I catch bugs in my house and take them outside. I truly hate having animals euthanized. Despite the fact that Rat Rae was having grand mal seizures every thirty minutes or so, the day I had her euthanized I worried about whether I had done the right thing for her.
The Sunday after Rat Rae died, I was treated to probably the most intense spiritual experience I have ever had, and it was during church service. I was taking Communion when I had a vision of Rat Rae playing with a white rat on the shoulders of Our Lord Jesus Christ. Inwardly, I was told that the white rat and his brother would be my next pair and that they were already waiting for me, curled up in a ball in the front right corner of the snake-food cage at our local pet store. It was communicated to me that I had to get this white rat the next day, Monday, or it would be too late. Most significant was the white rat's name, Noah — an ancient Hebrew word for "comforter."
On Monday morning, I went to the store and found Noah waiting for me right where I had been told he would be: in the front right corner of the snake-food cage. When I opened the cage to catch Noah, a black rat jumped out of the cage onto my shoulder. I figured this must be the second rat I was supposed to adopt, so I took them both home.
Now both Noah and Asa have gone back to be with God. I'm sure they've joined all the other animals I have cared for, and it is only a matter of time before I see them again.