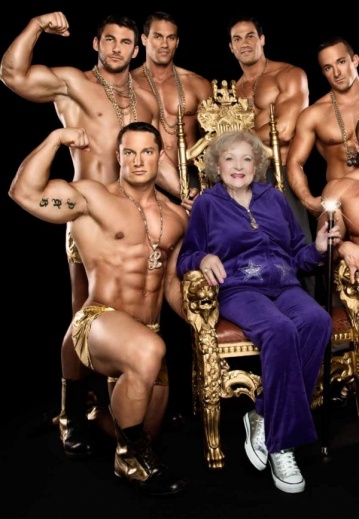 "I'm a teenager trapped in an old body and retirement is not in my vocabulary," she says." I may not be as fast on my feet, and the image in the mirror may be a little disappointing, but since I'm still functioning and not in pain, so gratitude is the name of the game."
TV Land's Hot in Cleveland star doesn't seem to be slowing down an iota. Now in her fifth season with the TV Land series, Betty White is America's reigning TV sweetheart — a late-to-bloom hipster, according to Yahoo TV!, who had everyone from Blake Shelton and Sarah Silverman to Bill Clinton and Bill Cosby show up to party when she turned 90 last year. And just last month, Mary Tyler Moore, Valerie Harper, Cloris Leachman, Georgia Engel, and Betty White reteamed for an upcoming episode of Hot in Cleveland. It had been 36 years since the ladies of The Mary Tyler Moore Show last worked together as a quintet, but it was immediately obvious as they reminisced about the good old days and complimenting each other, that love was in the air. The episode, which is set to air Sept. 4, 2013 is titled, "Love Is All Around." Mary Tyler Moore,76, felt the group's chemistry picked up right where they left off in 1977. "Even though we are playing different people, we interact as only you can when you have been together for a long, long time. We don't have to fake it."
Betty White's Off Their Rockers, another one of her recent creative projects, has moved audiences into hysterics. Being such a hot commodity in Hollywood, Betty has attracted guest appearances by Howie Mandel, Nicole Richie, Kim Kardashian, Steve O, Nick Lachey, NeNe Leakes, Ed Asner and more. You've got to check out the archives online at NBC.com. It is an outrageously funny hiddencamera show in which a fearless band of senior citizens pull shockingly hilarious pranks on the younger generation. "People have told me 'Betty, Facebook is a great way to keep in touch with old friends...' and I say, .. At my age, if I wanted to keep in touch with old friends, I'd need a Ouija board." At 91 years young, White is one of the funniest and busiest actresses in Hollywood. With a career that has spanned more than 60 years, the seventime Emmy Award winner has created unforgettable roles in television and film, authored seven books and won numerous awards, including those for her lifelong work for animal welfare.
Nominated seven times for Best Actress in a Comedy Series for her role as Rose Nylund in The Golden Girls, she was nominated for an Emmy in 2011 for her portrayal of Elka, the sharp-edged but lovable caretaker on the TV Land series Hot in Cleveland, also starring Valerie Bertinelli, Jane Leeves and Wendie Malick. In 2011, White received her first Screen Actors Guild (SAG) Award for Outstanding Performance by a Female in a Comedy Series for her role in Hot in Cleveland and was voted AP Entertainer of the Year in 2010. On may 8, 2010, an internet campaign was created to get actress Betty White to host an episode of Saturday Night Live. The campaign was started in early 2010 on Facebook and the group was called "Betty White to Host SNL (please?)!" The campaign was successful, and White became the oldest person ever to host the show. For this notable episode, Lorne Michaels brought back former cast members Rachel Dratch, Tina Fey, Ana Gasteyer, Amy Poehler, Maya Rudolph and Molly Shannon. The episode garnered its highest ratings in over a year with 12.1 million viewers overall. Well earned, Betty White was given the Lifetime Achievement Award in addition to being inducted into the Broadcasting & Cable Hall of Fame in 2011.
A passionate supporter of animal welfare, Betty was recently named chairman of the Greater Los Angeles Zoo Association; she has served on the board since 1974 and as a zoo commissioner for eight years. In 2006, White was honored by the City of Los Angeles at the Los Angeles Zoo as "Ambassador to the Animals" for her lifelong work for animal welfare. "All creatures must learn to coexist," she says, "That's why the brown bear and the field mouse can share their lives in harmony. Of course, they can't mate or the mice would explode."
Betty White was married for 18 years to Allen Ludden, host of the game show "Password," until his death in 1981. I say the password this month is Fun!
Have fun during the dog days of August by playing with friends, getting in touch with yourself and sharing your talent with others.