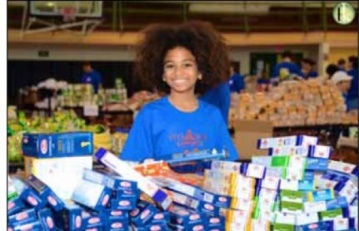 Boulder, CO, September 23, 2013 – Joshua Williams, age 12, of Miami Beach, Florida, has been named a 2013 Finalist by the Gloria Barron Prize for Young Heroes. Each year the Barron Prize celebrates twenty-five inspiring, public-spirited young people – some chosen as winners and others named as finalists – who have made a significant positive difference to people and our planet. This year's Barron Prize honorees are a highly diverse group of outstanding young leaders, chosen from nearly four hundred applicants nationwide.
J o s h u a f o u n d e d J o s h u a ' s H e a r t Foundation (joshuasheart.org), a nonprofit organization that provides food to lowincome children, seniors, and families in South Florida and Jamaica West Indies. With the help of more than 600 youth volunteers, Joshua has collected or purchased over 500,000 pounds of food and distributed it to over 10,000 people. "I love volunteering. I think it is my purpose. It is the perfect job," said Joshua. "All of my friends are helping out. They all think it is a great thing. Community Service is great. We are really proactive."
Joshua began his work to "stomp out hunger" at age 5, when he gave a homeless man the $20 his grandmother had recently given him
as a gift. "I saw a homeless man. I felt really, really bad for him. And then I remember that I decided to give him the money," said Joshua. He appeals to individuals, organizations, and local government for donations, and distributes food through schools and community-based sites. He recently launched his Backpack Program, sending 20-60 children home from school each weekend with a backpack full of food. "I love what I do. I never get bored from what I'm doing. It is a great experience and adventure every day. Kids are hungry for days and weeks. And I'm happy to help them," said Joshua.
"I feel blessed that God chose me to guide my son. My son has found his purpose and through my son I found my purpose now," said Joshua's mother, Claudia McLean. "I am so glad to see him and be able to help him in his pursuit of fulfilling his passion. I am so proud of him." He has also begun offering cooking demonstrations on how to prepare easy, nutritious meals. "Edward Everett Hale said, 'I am only one, but I am one. I cannot do everything, but I can do something,'" says Joshua.
The Barron Prize was founded in 2001 by author T.A. Barron and was named for his mother, Gloria Barron. Each year's twenty-five Barron Prize honorees are as diverse as their service projects. They are female and male, urban and rural, and from many races and backgrounds. Half of the honorees have focused on helping their communities and fellow human beings; half have focused on protecting the environment.
"Nothing is more inspiring than stories about heroic people who have truly made a difference to the world," says Barron. "And we need our heroes today more than ever. Not celebrities, but heroes – people whose character can inspire us all. That is the purpose of the Gloria Barron Prize: to shine the spotlight on these amazing young people so that their stories will inspire others."
"He is gifted. He got his vision. I think it is important to learn to give. You are never too young to start," said McLean. "Joshua has a big heart for others. He knows that not every child is fortunate enough to have food every day. But Joshua is determined to make a change every day and impact positively the lives of these children."
For more information, please visit www.barronprize.org
By Natalie von Cieminski
Natalie von Cieminski is currently an Honors student at Broward College holding a 3.9 GPA. After fulfilling her life-long dream of living and studying in the USA, von Cieminski seeks now a career as an on-air television personality. von Cieminski speaks and writes proficiently in German and English. She is currently the Managing Editor for the Broward College newspaper the Observer and writes for her personal blog www.natalievon. wordpress.com.