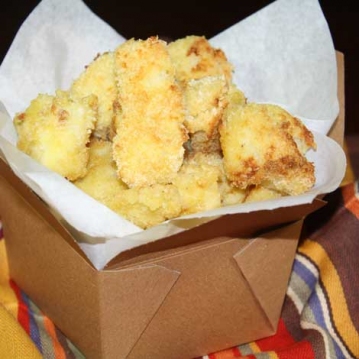 Dear readers,
For all those who have asked me quick and easy recipes, I'm bringing my baked fish nuggets. Without frying, but just as delicious and healthy. Perfect for a picnic or school.
Ingredients:
2 pounds white fish fillets (hake, cod, tilapia)
Kosher salt
Freshly ground black pepper
Garlic powder
Onion powder
Flour
2 eggs lightly beaten
Panko (Japanese bread crumbs)
Grated Parmesan cheese
Extra virgin olive oil spray
Preparation:
Preheat oven to 400 degrees F
Cut the fish fillets into small pieces. Dry them with paper towel.
Sprinkle with salt, pepper, garlic and onion powder.
Coat a nonstick baking sheet with olive oil spray.
Place three plates with the contents in each plate in the following order: flour, eggs wash, and bread crumbs (combine three parts of Panko one part of Parmesan cheese. Mix well).
Dip the fish in flour to coat evenly. Shake off excess.
Dip in egg wash to coat completely. Let excess drain off so the crumbs coating will be even.
Dip in bread crumbs. Cover with crumbs and press gently on fish. Make sure it is coated completely.
Place the fish on baking sheet. Coat the fish pieces with olive oil spray.
Bake for 12-15 minutes depending on thickness of fish. Give a broil and brown them on each side. Remove from oven and let rest for a few minutes. Serve with Ketchup sauce.