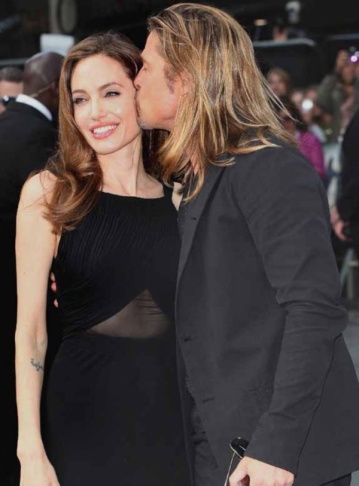 Brad Pitt and Angelina Jolie
Brangelina is the celebrity supercouple of American actors Brad Pitt and Angelina Jolie and it's the linguistic blend of the pair´s names. Robert Thompson, an educator and researcher in the field of popular culture, has said that the coupling of A-list stars like Brad Pitt and Angelina Jolie, or in years gone by Elizabeth Taylor and Richard Burton, is "a paparazzo´s dream come true." He further relayed that, "as silly as it sounds, this new tendency to make up single names for two people, like ´Bennifer´ (Ben Affleck and Jennifer Lopez) and ´TomKat´ drawings and artworks on it. The gown and the veil had flowers and cartoons drawn on by the couple´s six children.
"It was important to us that the day was relaxed and full of laughter," Pitt, 50, and Jolie, 39, told People. "It was such a special day to share with our children and a very happy time for our family." "I love being with Brad," the actress gushes. I´m very lucky with him. He is a real gentleman, but he is also a real man´s man." Jolie didn´t stop there, though. She specifically referred Pitt´s knack for parenting, saying of this "loving father" that he´s "a very, very intelligent man."
Congratulations to the couple (Tom Cruise and Katie Holmes), is an insightful idea.
on honoring their own timetable. So many times, we as "Brangelina´ is here to stay, fans, have our own inner dialogue that's for sure and it turns out that Brangelina has more cultural about how we think things should be. Accosted by equity than their two star media, the tabloids and status parts." quo, we have to be diligent Starting in 2005, Pitt and about our judgments in a Jolie´s relationship became one world of new arrangements of the most reported celebrity and relationships. It's important stories worldwide. After Jolie that we, individually, stay confirmed her first pregnancy open to change which is happening in January 2006, the unprecedented whether we like it or media hype surrounding not. This month, I am working them "reached the point of on allowing, and my mantra is, insanity," the Reuters report "Allow what is, to be." stated about "The Brangelina Angelina Jolie and Brad Pitt Fever." In an attempt to avoid are not having what most the media attention, Pitt and people would call a traditional Jolie went to Namibia for the honeymoon. The newlyweds birth of their first biological are working together in Malta, child, you may recall. Two an island country in the years later, Jolie´s second pregnancy Mediterranean, on their again fueled media upcoming film, By the Sea, an frenzy. For the two weeks she intimate, character-driven spent in a seaside hospital in drama which was written by Nice, France, reporters and Jolie and will also be directed photographers camped outside by her. Their children are in on the promenade to tow, and they consistently report on the birth of the twins. make quality time away from The two actors wed in a the hustle and bustle of their small private ceremony on new project to create new fun Saturday, August 23, at memories. Angelina Jolie has Chateau Miraval in France. been focusing more on directing The pair´s six children played than acting recently. She important roles in the wedding:
will release Unbroken this Maddox and Pax walked Christmas. There is another their mother down the aisle, new movie called Africa and Zahara and Vivienne served as it's based on a screenplay by flower girls, and Shiloh and Eric Roth (Forrest Gump, Knox were ring bearers. Jolie´s Munich) about paleo-archaeologist dress had their children´s Richard Leakey´s battle with ivory poachers that threaten the existence of the African elephant population and the very soul of Africa.
"I´ve felt a deep connection to Africa and its culture for much of my life," said Jolie. "And I was taken with Eric´s beautiful script about a man drawn into the violent conflict with elephant poachers who emerged with a deeper understanding of man´s footprint and a profound sense of responsibility for the world around him."
Jolie wrote an Op/Ed newspaper article titled "My Medical Choice" that was published on May 14, 2013, in The New York Times in which she revealed that she had undergone a double mas- tectomy and breast reconstruction because she is a carrier of a "faulty" gene, BRCA1. Her doctors advised her that the gene, along with her family history of breast cancer (including her mother´s death at age 56) made it much more likely that she would have developed breast cancer (the medical esti- mate was that she had an 87% risk of breast cancer), so she elected to have the surgery as a preventative measure. Many of us remember when we heard about this choice. That's the really great thing about shocking news.
We get to see our own reactions. That's right; it behooves us to learn more about ourselves. You see, our stars and celebrities and newsmakers and even raging international wars show us the inner working of our belief systems and our own minds.
So this month, be aware of the chang- ing times and monitor, if you will, your own beliefs and ideas about how the world and how people should be. Go ahead, choose a mantra for yourself… and see… how you can be.
A writer, Huffington Post blogger, radio talk show host and motivational speaker. Listen to Liz's radio show and inspiring celebrity interviews at SterlingSpin.com