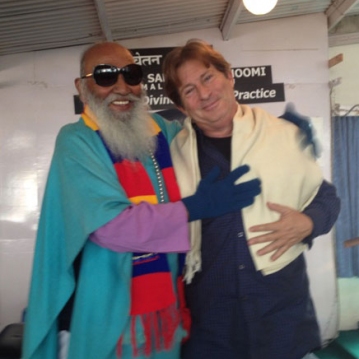 I loved the Alan Cohen article in the Happy Herald last month. It was entitled, "Whatever Spirit Wants". He said, "A Course in Miracles tells us there are no conflicting wills in the universe. What God wills is always good and it will always happen." Now how can that be? Sometimes things happen that are bad, that are sad, that just don't make sense? And yet, I've heard many stories where hindsight gives us the insight to know that everything does happen for a reason. Here's one fabulous story:
Brian Sheen shared his journey with me. "One day, my life crashed and burned." he reflected. "All the values that I had worked for and dedicated my life to fell away and left me raw." I asked him to expound on this. "I was caught up in striving for power and money," he said "I wanted to be on ´top of every list´ and to be seen as a rich and successful person. I was driven and I had many excesses and bad habits and was burning the candle at both ends. One day," he paused in our conversation, maybe in gratitude or maybe it was just a pause, and then, ever so clearly he said, "One day, there was no more candle. Everything nos dived; I literally lost my house, car, marriage, business and I found myself depressed and distraught. I set out to seek help but the situation got worse because I was put on meds and that really overwhelmed me. I couldn't drive or function and the side effects were not getting me anywhere."
"In a flash," Brian, continued, "I decided to flush my meds down the toilet and right there and then, I surrendered at the porcelain throne. I realized there had to be another way. All of a sudden, I saw the false idols I was chasing weren't outside or in the world, what I was seeking was inside." As if floating on a cloud, Brian shared that in his worst moment, a quote filtered into his mind, It was, "For what shall it profit a man, if he shall gain the whole world, and lose his own soul?" He was familiar with this quote from Mark 8:36 because six years earlier, having no idea at that time why, he included it in his book. Brian explained that, "It made no sense to me at the time. I really didn't consciously want to use that quote but there was an insistence from within and then, six years later it was coming into my mind for me to get the message. It was like an email that got lost in space and boom, there it was! In that moment, I realized my true wealth could never be taken away from me and wasn't about traveling first class, a Mercedes in the driveway or a big fancy house in Boca. That flash of insight allowed me to begin my true path.
Brian went back to school and got his PhD and realized what he really loved in life was helping other people and lifting them up and watching someone who is suffering shift to becoming someone who smiles. "I always liked helping others but never thought of it as a career." Brian ended up writing a book detailing his journ e y , When Life Becomes Overwhelming. "I was living in 1/3 of a garage in an efficiency apartment and it was the size of the bedroom in my old house and I was happy and peaceful," he said. "I ultimately opened a center and began helping many people who were taking antidepressants and children who were taking meds for ADHD. I attribute so much of my healing to The Course In Miracles. It has been a huge influence on all aspects of my life and my work. The book by Marianne Williamson, A Return to Love, opened the door for me and allowed for the greatest shift in my life, what is known in the Course as a miracle." The miracle is defined as the shift in perception from fear to love. Much of Brian's work today is based on the concept that, "The path to sanity is through the body." He is currently helping adults and children to thrive with "The Seven Keys for Attention Development" the core of which comes from A Course in Miracles, to bring peace through the body and peace and focus into the mind. These are tools and strategies that are now available online from Brian and in a downloadable app. Learn more about this miraculous work at www.7Keysfor AttentionDevelopment.com.
Miracles do happen. Just think about it…. If you have a problem and you can see it from a different perspective, that problem can become an opportunity to shift your perception. And very simply, a shift in perception is a miracle and miracles, are happening every day! If you are reading this, I propose, YOU are ready for a miracle!
Come to an Anniversary Party commemorating A Course in Miracles and to connect with our wonderful South Florida community. All Are Welcome to Attend! Sunday, April 19, 2015. Music, Inspiration & Celebration 12 noon–4 pm $19.65 Event and Reception 12 noon–6 pm $40.00.
Due to high interest and limited space you must reserve your seat online at www.ACIM50.com.

This event will be held at the Cendyn in Atrium Building in Boca Raton. 980 North Federal Highway. Produced by Liz Sterling, Joseph (JP) Parsons and Lynn Turner. 561-495-4277.