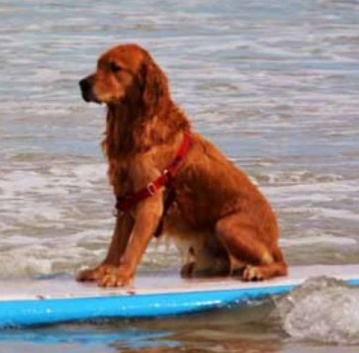 Attention beach-loving dogs and their owners. Mark your calendars (preferably in pen, not the way dogs prefer to mark) and start practicing your surf moves.
The Hang 20 Surf Dog Classic will be Saturday, August 29, 8am-noon, at Carlin Park in Jupiter, FL. Imagine four legged bikini-clad Bettys and plenty of canine surf action with tasty waves and cool rides.
Mr. Barkley is a handsome, four-year-old Golden Retriever, hails from Merritt Island. Barkley is a certified pet therapy dog, and does agility, rally, and canine musical freestyle with his mom. But he lives to surf. Through his interpreter (mom), he offers this advice grommets (surf term for surf-newbies).
• Get a surfboard and practice in a pool.
• Get comfortable. Sit, lay and stand on the board.
• Have your human gently push the board away, and slowly pull it back. This teaches balance and to use your back legs to steady the board, without the distraction of waves.
• When this becomes easypeasy, venture to the ocean on a calm day.
• Take it slow and work up to standing on the board and riding the waves.
photo: Tina Valant Mr. Barkley is planning to be in Jupiter, to surf on August 29. So if you see him, come on over and say, "Cowabunga, dude!"
Safety first. Get your dog a properly-fitted life vest, for ocean rides. There's no reason to be clucked (afraid) of the waves, just proceed slowly and pay attention that your dog doesn't get stressed. Bring plenty of fresh water and a bowl from home. Keep training sessions short and sweet. Always end on a good note. When it stops being fun that day STOP. When you insist on doing something that your dog doesn't enjoy, you will break the bond of trust between you and your dog; that can be irreparable.
This event will benefit Furry Friends Adoption & Clinic, a 501c3 not for profit organization located in Jupiter. Operations consist of a full service veterinary clinic, thrift store, adoption center, and ranch. Furry Friends provides an invaluable service to homeless animals in the northern Palm Beach/Martin county community . Beyond providing shelter and veterinary care they receive an opportunity for a better life in a forever home. Furry Friends depends upon local support to continue assisting pets in need.
Email hang20surfdog@ gmail.com to volunteer, be a vendor, sponsor or enter your dog* in the surfing contest.
* For everyone's safety, please: no females in season no dogs under four months old no prong or choke collars no retractable/flexi-leads