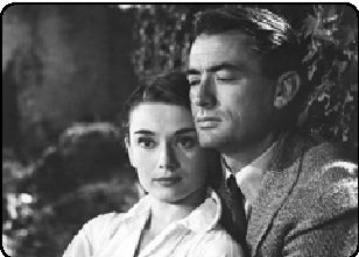 Most Romantic Movies Ever! Celebrity NewsLove changes you and all your life for the better. These movies are about love that changes everything. They are the best love stories ever filmed. They are the most romantic movies ever.
Roman Holiday (1953)
A bored and sheltered princess escapes her guardians and falls in love with an American newsman in Rome.
Stars: Gregory Peck, Audrey Hepburn and Eddie Albert
The English Patient (1996)
At the close of WWII, a young nurse tends to a badly-burned plane crash victim. His past is shown in flashbacks, revealing an involvement in a fateful love affair.
Stars: Ralph Fiennes, Juliette Binoche and Willem Dafoe
Love Actually (2003)
Follows the lives of eight very different couples in dealing with their love lives in various loosely and interrelated tales all set during a frantic month before Christmas in London, England.
Stars: Hugh Grant, Martine McCutcheon and Liam Neeson
Pretty Woman (1990)
A man in a legal but hurtful business needs an escort for some social events, and hires a beautiful prostitute he meets... only to fall in love.
Stars: Richard Gere, Julia Roberts and Jason Alexander
Shakespeare in Love (1998)
A young Shakespeare, out of ideas and short of cash, meets his ideal woman and is inspired to write one of his most famous plays.
Stars: Gwyneth Paltrow, Joseph Fiennes and Geoffrey Rush
The Notebook (2004)
A poor and passionate young man falls in love with a rich young woman and gives her a sense of freedom. They soon are separated by their social differences.
Stars: Gena Rowlands, James Garner, Rachel McAdams and Ryan Gosling
Gone with the Wind (1939)
American classic in which a manipulative woman and a roguish man carry on a turbulent love affair in the American south during the Civil War and Reconstruction.

Stars: Clark Gable, Vivien Leigh and Thomas Mitchell
Memoirs of a Geisha (2005)
Nitta Sayuri reveals how she transcended her fishing-village roots and became one of Japan´s most celebrated geisha.
Stars: Ziyi Zhang, Ken Watanabe and Michelle Yeoh