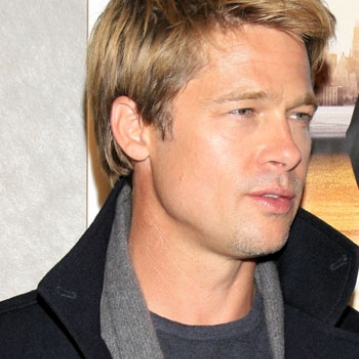 William Bradley Pitt, named after his father, sounds like a nice guy from Oklahoma. He may not be your average Joe, but the handsome, talented actor did star in Meet Joe Black. I am not sure what has made Brad so famous – was it his good looks, his skilful acting, his charitable generosity, or his tabloid-filled love life? Most likely, all these elements combine to make him such a well-known celebrity.
So just how did Brad get his break? While attending Kickapoo High School in Missouri, he got the nickname "Brad the Pit-bull" as he stayed busy balancing sports, debate, student government, and school musicals. Alright, so perhaps starring in high school musicals did not catapult Brad into the limelight; however, once the soon-to-be celebrity got a taste of acting, he continued acting in college, and ultimately left the University of Missouri two credits shy of graduating to pursue his acting career. Even though he does not have his college degree, Brad says, "I believe I'm quite capable and we, as people, can learn to do anything, and that's proof of it! And my education is on film, on record! Now I can take on anything that comes my way and find truth in it and do a pretty good job." I would have to say he has done a great job!
How does Brad feel about stardom and having Paparazzi everywhere just waiting to add his picture to tabloid gossip? "Fame is a bitch man." He continues, "Success is a beast. And it actually puts the emphasis on the wrong thing. You get away with more instead of looking within." So how does he stay grounded? Luckily, Brad's grandparents keep him humble, especially when his grandfather, in references to one of Brad's movies, asks his grandmother, "what was the name of that movie I didn't like?" According to Brad, "that was classic. I mean, if that doesn't keep your feet on the ground, what would?" 
With such a strong support system, Brad can overcome the drama that tabloid magazines flout. After spending $1 million on their wedding in 2000, Brad and Jennifer Aniston got divorced in 2005. Even though the media gossip centered on this "failure," Brad never saw the relationship as failed. He confesses, "The thing I don't understand is looking at this as a failure. It's talked about like it failed, I guess because it wasn't flawless. Me, I embrace the messiness of life. I find it so beautiful, actually." So just what does Brad think of married life? "Being married means I can break wind and eat ice cream in bed," according to Brad. What an odd, yet honest confession.
After love comes marriage, then the baby carriage. I think he and domestic-partner Angelina Jolie need a caravan more than they need a carriage. Despite their widely-publicized adoptions and natural-birth twins, Brad and Angela (or "Brangelina" as tabloids refer to the duo) try to keep their children out of the media spotlight. When speaking about his children, Brad confesses, "It really changes your perspective on the world. You know, I've had my day. I made some films, and I've really had a very fortunate life, and it's time for me to share that a little bit. Having children takes the focus off yourself, which I'm really grateful for. I'm so tired of thinking about myself. I'm sick of myself. You feel you want to be there and not miss out on anything. It's a true joy and a very profound love. You can write a book, you can make a movie, you can paint a painting, but having kids is the most extraordinary thing I've ever taken on." Sounds like the sentiment of a truly dedicated, devoted dad.
Speaking of devotion, Brad's fans are counting down to the release of his next film The Tree of Life, which opens on May 18.
TRIVIA
His laugh and cheekbones are his trademark characteristics
Owns and plays guitars
Is the first man to be named "Sexiest Man Alive" twice by People Magazine [1994 and 2000]
Voted "Best Actor" by viewers of MTV's The Big Picture [1995]
# 23 on Empire magazine's 100 Sexiest Stars in film history [1995]
#32 in Empire (UK) magazine's "The Top 100 Movie Stars of All Time" list [October 1997]
Chosen by "People" magazine as one of the world's 50 most beautiful people [1996 and 1997]
Ranked #31, and eventually moved up to #15, on Premiere's 2006 "Power 50" list [2005]