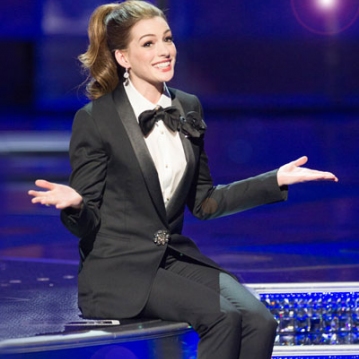 Anne Hathaway's smile is penetrating. You can feel her intensity by watching her intently. Garry Marshall, the director of The Princess Diaries said: "The multi-talented Hathaway is a combination Julia Roberts, Audrey Hepburn and Judy Garland." She often plays sassy, free-spirited women who attempt to remain independent, although this reflects her evolution as an actress. Her first major role came in the short-lived television series "Get Real" in 1999. She gained widespread recognition for her roles in The Princess Diaries in 2001 and its 2004 sequel as a young girl who discovers she´s a member of royalty, opposite Julie Andrews and Heather Matarazzo. " Kindness is really important to me in finding my own prince," Hathaway says, "So are patience and a sense of humor. Without those qualities
he´s no Prince Charming! I look my best after an entire hair and makeup team has spent hours perfecting me but I feel my best when I haven´t looked in a mirror for days, and I´m doing things that make me happy. I've worked with people and I´ve known people that were really competitive but I´ve always said that I take an Elizabeth Bennett philosophy of life - I laugh, I love my job and if it ever means hurting someone, I won´t do it."
Anne Hathaway was raised in a solidly upper-middle class family in New Jersey with English, French, Irish, German and Native American ancestry. Her father Gerard is an attorney and her mother, Kate McCauley Hathaway, is a singer/actress. Anne was born on November 12, 1982 and turns twenty-nine this year. Her career began in 1999 and strong values, the hallmark of her family, have ensured her continued success.
Hathaway began to move away from family-friendly films when she appeared topless in Havoc and Brokeback Mountain. Her desire to break out of her "Princess Diaries" image parallels that of her one-time co-star, Julie Andrews, who went topless in the film S.O.B. in 1981 in order to break away from the image she created from her 1960s musicals. "I´m more proud of Brokeback Mountain than anything I have created," Hathaway acknowledges. "I got into this business to be an actress, to scare myself and force myself into a place outside of my comfort zone. I love working and I feel satisfied when I know I have literally given all the energy that I have. That being said, work is not my No. 1 priority. I don´t think it can come at the expense of your family, your friends and your ´significant other´ if you have one."
For the movie The Devil Wears Prada, Hathaway was told to gain 10 pounds (bringing her weight to 130) only to be told afterward that she would have to lose 10 pounds and they would pad her for the "fat scenes". After production, Hathaway was presented with the padding which she jokingly refers to as "Andy´s ass". "I think that fashion can be a lot of fun," she reflects. "I love clothes, but I recognize that it should only be a hobby. I think we are moving away from the idea there is one way to look. Oddly enough, the TV show Mad Men has done a huge and wonderful thing for women´s bodies by showing what women used to naturally look like. We kind of forgot because women have been encouraged to manipulate their bodies for so many years to look like one ideal.
I gave up my struggle with perfection a long time ago,' Hathaway continues, "That is a concept I don´t find very interesting anymore. Be happy. Be yourself, the day is about a lot more."
Be sure to catch Anne Hathaway and Jim Sturgess in One Day, in theaters on August 19th! After one day together on July 15th, 1988, their college graduation, Emma Morley (Hathaway) and Dexter Mayhew (Sturgess) begin a friendship that will last a lifetime and come to terms with the nature of love and life.