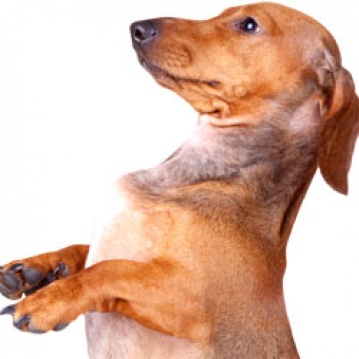 On Christmas a few years ago I was invited by my Cuban-American best friend to spend the day in Miami at one of her friend's homes. I hesitated only because it meant attempting to speak Spanish the whole day which is tiring for me as it's not my native language.holding the dog and all three were caressing it. I asked whose dog it was. The answer was that it was homeless. I thought they were joking and asked again. Another woman answered this time saying that the dog was homeless. I didn't believe it for a minute; I thought they were teasing me. The dog, a fawncolored Dachshund, had a beautiful coat. I couldn't believe that a pedigreed dog as beautiful as this one could be homeless. In my mind only a mutt was the homeless type. I dismissed the story and went to eat at a table in the back.

When we got there I noticed lots of people mingling and one cluster in particular of three beautiful twentysomething women surrounding a small dog. One was yard with my friend. I noticed the dog again during the afternoon but then decided it belonged there since it seemed to be right at home.
Only when we were leaving and I saw the little adorable Dachshund running along the curb going around the corner did the idea sink in that just maybe this beautiful dog really was homeless.
We followed it up the street and watched as it went into the open garage of a house and disappeared within. We figured it lived there but to make sure my friend decided to ask. Since it was a Cuban neighborhood she went to the front door to inquire about the dog while I waited in the car. A few minutes later out came my friend with the dog in her arms. She also had the dog's only worldly possession; her bowl.
She's really homeless she told me as she handed me the sixteen pound sausage dog. She just eats her evening meals here and sleeps here but leaves every morning. She's been doing this for months.
And so I brought home a Spanish language Dachshund from Miami who didn't even understand the word "outside" when I said it. As soon as I said "afuera" which is outside in Spanish she ran to my front door.
It was my best Christmas present that year and so it was really fitting to name her Christmas. She has brought me endless joy every day since that Christmas a few years ago.