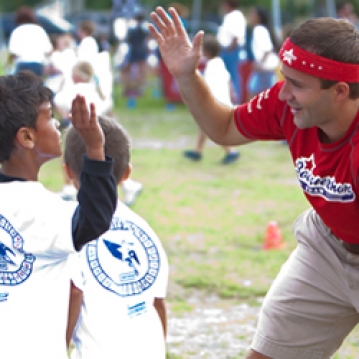 Addison Mizner Elementary in Boca Raton, Fla. spent the first week of October learning about positive character traits and the value of teamwork in schools and at home. By hosting the Boosterthon Fun Run at the school on Friday, Oct. 7, the school and students received so much more than a just a school fundraiser.

The Boosterthon Fun Run, a nine-day fitness and leadership program, is designed to help schools meet their financial goals while inspiring students to live character-filled lives. Each school year, Boosterthon presents a new character theme more than 400,000 students across the nation
This year, Boosterthon Fun Run taught Addison Mizner students about the importance of including everyone in a team. As part of the evolution of the anti-bullying campaign, Boosterthon brought the 2011-2012 character theme, EPIC Adventure, to Addison Mizner students. Every student at the school was able to participated in the 9-day program to learn how to En courage, Play, Invite and Celebrate.
The Boosterthon Fun Run team encourages students to come together by instilling important character traits in them at an impressionable age. These students were able combat the issue of bullying before it began by understanding that leaders encourage their peers, play with others, invite people to participate and celebrate with friends. Although teamwork is traditionally thought of in sports, Boosterthon and Addison Mizner students realize teamwork is valuable in the classroom, on the playground and in the home.
"The Boosterthon program adds so much value to our school and our community. Students truly look forward to their Boosterthon team visiting each day and are excited by the team members' contagious energy while learning about how to embody good character inside and outside of the classroom," said Kari Soltys, the Boosterthon co-chair for Addison Mizner Elementary. "Boosterthon teaches our students about fitness and character building at the same time. The teams focuse on ending bullying before it starts by always including their peers and celebrating their successes. Overall, the Boosterthon Fun Run has a very positive impact on our students, our teachers, our parents and our community, while helping us raise funds for school improvement projects!"
To reinforce the EPIC Adventure theme, every child at Addison Mizner participated in the character education lessons and the final culminating fun run event, regardless of financial contribution to the fundraiser. Students, parents and community members can be seen on the sidelines of the "Boosterthon Speedway" cheering on their children and friends to celebrate their successes.
"Every day, our team members see students across the country get excited about character and leadership," said Chris Carneal, Boosterthon founder and president. "Schools exceed their financial goals, and we challenge students to live out the daily character action in school and at home."
Boosterthon's hassle-free program promises results and encourages students to live healthy, active lifestyles and make positive, character-filled choices. For more information on this new and unique fundraising program, visit http://boosterthon.com.