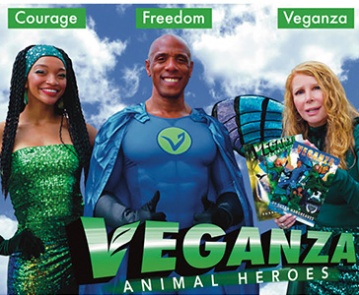 Eighty children ages 4 and 5 were surprised by vegan superhero special guests on Friday, April 21, 2023 at a school in West Palm Beach. The Veganza Animal Heroes are home from their global book tour, which included stops in England, Ireland and San Francisco.
Freedom, Courage and Veganza are a trio of superheroes from the novel "Veganza Animal Heroes," which ranked number one in new releases for youth in ecology.
The interactive presentation at Planet Kids School included children wearing hero capes as they learned how to help animals and the earth.
They enjoyed vegan pizza with vegan mozzarella for Earth Day, to emphasize the value of plant-based fare for protecting the planet.
One person eating plant-based food for one month saves 33,000 gallons of fresh water, 900 square feet of forest, 1,200 pounds of grain, 600 pounds of carbon dioxide and 30 animal lives.
We had loads of fun when the children put on the colorful hero capes in their playground and "flew" around after the Veganza superheroes surprised them. They learned why the pizza is vegan.
I portray the role of Veganza and founded Animal Hero Kids, and wrote "Animal Hero Kids Voices for the Voiceless" and the children's and teen's "Veganza Animal Heroes" book series to encourage all ages to be heroes to animals and the planet. My mission of advocating for all species and the planet is supported by notable animal advocates like Joaquin Phoenix, Jane Goodall and Paul McCartney.
Freedom is played by Miami professional vegan bodybuilder Korin Sutton. Courage the mermaid is embodied by Fort Lauderdale veg an actress and model, Sky Bison.
Veganza superheroes are part of Animal Hero Kids, a youth education and empowerment charity which offers free programs for all grade levels to learn how to be heroes to the animals and the earth.