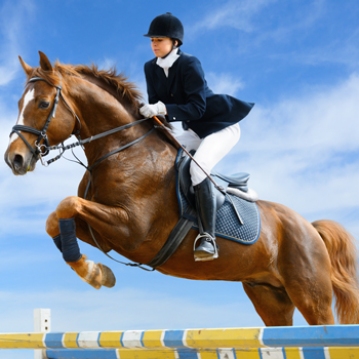 Now that the Triple Crown horse races have failed (yet again) to produce a horse which will win all three races (Kentucky Derby, Preakness and Belmont Stakes), the sport which used to rank just behind baseball and boxing in its popularity (it really did - remember the movie "Seabiscuit"?), now finds itself shuffled back to the shadows as it struggles to find a way to stay relevant in the public eye. And that's too bad, especially for those of us who live in Florida.
You see, thoroughbred horse racing in the Sunshine State is big business – not just from attendance at the local tracks of Gulfstream, Calder and Hialeah, but also from the off-track betting which takes place at these, and other pari-mutual establishments throughout the state. In fact, the business of breeding, training and racing these four-legged athletes is big business in our state, yielding an astonishing three billion dollars in annual revenue – that's right, three billion dollars. Not only that, but over 400,000 Floridians depend on the racing industry for income and they include horse owners, service providers, employees of the facilities and even volunteers, not to mention those who go through the gates each year to spend a day at the races.
So when the premier events in the sport fail to deliver a champion, the sport as a whole takes a hit. (Trivia time: most know the name of the last Triple Crown winner, Affirmed, but do you know where he was bred? The answer later.) The reasons why it has become so hard to win these three races in a five week period are numerous and no one really knows for sure. It could be today horses are bred for speed, and not the stamina needed to win on three different racks, over three different distances, at a time when most young horses are still learning their trade. Additionally, new challengers are always lurking, trying to beat the current champion; then there's the belief training methods have changed so as to limit a horse's ability to win over a longer period of time, that the breeding money at stake is so great owners and trainers want to win early, cash in, then move on.
Or maybe it's just too hard to do any more. Maybe, but I can remember when horse race historians would point out that 25 years had passed since Citation won all three races in '48, until Secretariat turned the trick in '73. The experts were saying many of the same things at that time, only to eventually see three horses pull it off within six years.
Whatever the reason, we can only hope, both for economic and for sporting reasons, that the Racing Gods once again let us see that super horse, so that Floridabred Affirmed finally becomes a trivia question – and not the last Triple Crown champion.
---
We hope you enjoyed the article and ask you to support Happy Herald by referring clients to us. We offer Advertising, Direct Mail, SEO, Website Design, Social Media and more. Thank you!