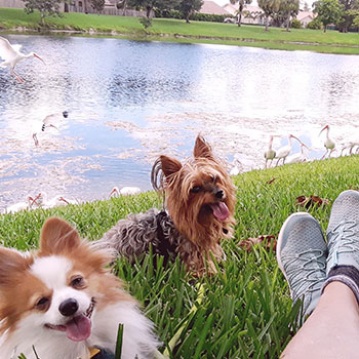 Most of us dog parents believe our furry family members are spoiled rotten. We take great pride in that, especially when we have adopted or rescued them from homelessness, abuse or neglect.
In the United States, we are killing our kids and our pets, with "love." A third of children (under age 19) are overweight or obese, along with more than half of our dogs and cats. Food is not love. Overfeeding, table scraps in addition to daily rations, too many treats (especially with unhealthy ingredients like corn, wheat, soy, or byproducts) without daily exercise can result in a portly pup. If your pooch has a paunch, or lacks indentation between the ribcage and hips, YOU are reducing their quality of life and the years you will spend together.
Often, we rank our canine companions' needs ahead of our own. Not only do we provide air-conditioned environments, we prepare gourmet meals served in fancy bowls, buy them expensive beds and toys, take them on trips and to the vet. Yet so many parents scrimp on the ONE THING dogs (and kids) desire most: our undivided attention.
The best way to optimize your dog's health and wellbeing is to walk. You will also benefit. Make sure your dog always has a snug collar on, with ID. Harness them for additional safety and never use a retractable/flexi lead.

Do not make excuses like:

• My dog has a fenced yard.
The same old scene and scents are not enough visual, scentual, mental stimulation for a healthy dog.
• Too dang hot?
I hear ya. Get out earlier, as the sun sets (bonus: the sky is painted with color this time of year), or after dark.
• Worried about COVID-19? Sunshine, fresh air and exercise boosts your vitamin D and immunity. Avoid coming within 10 feet of strangers.
• Too busy? Carve 20 measly minutes from your TV or social media scroll. Your dog needs you, and you both will benefit from the exercise and fresh air.
• Afraid of encountering unfriendly people/dogs? Stay aware of your surroundings and project calm assertiveness. If you're scared, that transfers down the leash.
• Your dog is sick/old? Take them in a wagon or carrier, or simply sit outside on the porch/patio or in the yard with them for at least 20 minutes.

Dogs require daily walks for their physical, mental and emotional well-being, in addition to relieving themselves. Yes, more than one daily walk, each at least 20 minutes, with your full attention (without ear buds, on the phone or texting). I wish parks would be declared phone-free zones. We go there for the peace and serenity of nature, not to be an unwilling recipient to a speakerphone conversation.
Like your canine companion, do yourself a favor and take it all in with every sense. Listen to nature, watch birds, catch scents on the breeze, gain added benefits of earthing (walk barefoot), feel the wind on your skin, taste chilled water you've brought along. You might even be caught in a refreshing sudden South Florida shower.
Right now, the jasmine is abloom at our park, the sweet aroma wafts on cool morning breezes. The damp grass is pleasing and cool to my soles, as I connect with the Earth. Ducks, geese, and ibises are vocal, entertaining and lovely. What are you waiting for?
Give your dog the one thing s/he really wants and needs most: your undivided attention. Leash up and head out!