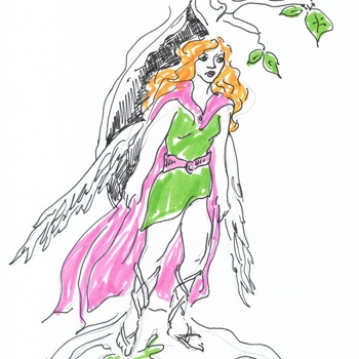 What I would be truly grateful for right now is a female superhero goddess vegan warrior flying out of the Everglades at high speed.
Here comes one now in this excerpt from the short story in the "Animal Hero Kids Voices for the Voiceless" book available at AnimalHeroKids.org
Shero the Defender – A Short Story

Shero is a magical, super animal hero who lives deep in the Florida Everglades.
Her home's entrance is hidden by a thick tangle of banyan tree roots and Spanish moss. Shero has wings, which turn into fins under water and fold into her shoulder blades when they need to be hidden.
Shero's long red hair streams down her back, and is often tied with strands of Spanish moss ivy. When she was a child, before a fairy granted her special powers to help animals, Shero was teased for having red hair and for being different. She wore glasses in school, and still does, periodically; the glasses are in the shape of hawk's wings. The glasses enable her to see as keenly as a hawk from a far distance. Shero's friends deep in the Florida Everglades include Florida panthers, alligators, opossums, ospreys and Great Blue Herons. Her wildlife neighbors make up a part of the animal nation, a nation that has its own ethical code, methods of communication and sense of community.
Any genuine, sincere, heartfelt call for help for other nonhuman animals can be heard by Shero. This story is about how Shero met an animal hero teen named Tunika.
Shero sits in her Spanish mosscovered chair as she looks up through the top banyan tree branches out to the starlit night sky. She hears an echoing call of distress, a heartfelt plea. Shero springs up; her wings fold outwards, as she soars up and out through the tree´s branches following the sounds for help.
In lightning speed she lands, her feet planted firmly on the ground. She starts to see a group of bullies who are tormenting a homeless cat. They are intent on harming the black cat because of their bias and superstitions and, incorrectly, thinking that being heartless is cool. Tunika, a teen girl with multiple long braids is bobbing up and down in rage; she is standing in front of the trapped cat. Shero could hear the girl's cries of protest emanate through the windows of her treehouse deep in the Florida swamps.
One of Shero's powers is to stop movement. She freezes the entire scene immediately upon her arrival to stop any possible harm. Then, when the bullies awake from their still freeze, they are inside the body of the cat and can feel her fear as their own. "You will feel her terror as your terror. You will feel her fear and sadness as yours, and you will each be forever changed," Shero intones, and empowers them with a true sense of empathy coupled with a conscience.
A Happy Ending

Shero will eventually save the Earth and the animal nation with her amazing ability to make humans feel and experience the emotions and suffering of other animals. This empathetic conscience is not temporary. It is long term and inspires the changed person to speak out on behalf of others. They become totally aware of the effect their actions have on the planet and on the other animals they share it with.
This is how Shero will change the world. She is the ultimate humane educator, a hero with an eye for a more compassionate future, a determination to rid the world of the evils of apathy, indifference and greed. She instills in humans respect for all living beings and removes any apathy or disconnect humans may feel toward animals.
The bullies who tried to harm the black cat Tunika was defending now volunteer at an animal sanctuary. The cat, named Midnight, has found her forever home with one of the transformed boys. As part of the boys' volunteer duties, they alert the community about a free spay and neuter mobile service for dogs and cats. They also educate their schools about the homeless cat and dog epidemic. Their new band, Power Kind, also plays at concerts to raise money for the rescued animals where Tunika volunteers. Tunika started a Justice for Animals club at her school; they cook and bake to create great cruelty-free vegan sample tastings in the school cafeteria.
Shero is back in her Everglades home looking out her camouflaged window at the mother opossum sleeping soundly on the widest part of a branch. Her babies are peaceful and still inside the marsupial´s pouch. Shero lies down on her Spanish moss bower and closes her eyes to rejuvenate. Secure in her knowledge that crow sentries will alert her to any danger, she rests, to be ready for the next crisis call she will certainly hear.
Attention! AnimalHeroKids.org is searching for artists and animators to help make Shero come alive; email SusanH@animalherokids.org to send us your submissions.