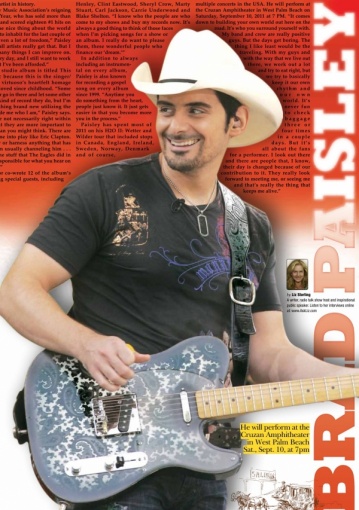 Brad Paisley is a charismatic performer, witty lyricist and Grammy award winner. "I can't help but include some of the lighthearted stuff in my music," he quips. "I guess that's the way I observe things. My favorite saying is, 'If you're going to laugh about something later, you might as well start now." And it just may be that Paisley is so loved and acknowledged because of his bright outlook on life and phenomenal ability to connect with his audience. Oh, and let's not forget, his voice, lyrics and natural talent. Born on October 28, 1972, Brad has been performing professionally since he was 13. After appearing in front of the local Rotary Club, he was invited to the famed Saturday night broadcast Jamboree USA. Paisley's debut was so well received that he was invited to join the program full-time, and in the years to follow he opened for the the Judds, Roy Clark, and Little Jimmy Dickens. He's the youngest person ever inducted into the Jamboree Hall of Fame and has won 14 CMA Awards, including Male Vocalist of the Year three times.
In 2010, the Country Music Association named Paisley its entertainer of the year. "When they say you're the best, I always remember that the majority of the audience probably thinks someone else should have gotten the award," he says modestly. Yet, there is no denying, he has earned more consecutive number one hits than any other country artist in history.
He's the Country Music Association's reigning Entertainer of the Year, who has sold more than 12 million albums and scored eighteen #1 hits on country radio. "The nice thing about the world that I've been able to inhabit for the last couple of years is that I'm given a lot of freedom," Paisley reflects, "and not all artists really get that. But I realize there are many things I can improve on. I'm challenged every day, and I still want to work hard and earn what I've been afforded."
Paisley's ninth studio album is titled This Is Country Music because this is the singer/ songwriter/guitar virtuoso's heartfelt homage to the music he's loved since childhood. "Some artists would rather go in there and let some other things dictate the kind of record they do, but I'm trying to do something brand new utilizing the influences that made me who I am," Paisley says. "Some of them are not necessarily right within country music, but they are more important to modern country than you might think. There are influences that come into play like Eric Clapton. When I try to play or harness anything that has some soul to it, I'm usually channeling him . . . Don Henley and the stuff that The Eagles did in the '70s, they are responsible for what you hear on country radio now."
Paisley wrote or co-wrote 12 of the album's 15 tracks, recruiting special guests, including Henley, Clint Eastwood, Sheryl Crow, Marty Stuart, Carl Jackson, Carrie Underwood and Blake Shelton. "I know who the people are who come to my shows and buy my records now. It's always a good thing to think of those faces when I'm picking songs for a show or an album. I really do want to please them, these wonderful people who finance our 'dream.'" In addition to always including an instrumental on every album, Paisley is also known for recording a gospel song on every album since 1999. "Anytime you do something from the heart, people just know it. It just gets easier in that you become more you in the process."
Paisley has spent most of 2011 on his H2O II: Wetter and Wilder tour that included stops in Canada, England, Ireland, Sweden, Norway, Denmark and of course, multiple concerts in the USA. He will perform at the Cruzan Amphitheater in West Palm Beach on Saturday, September 10, 2011 at 7 PM. "It comes down to building your own world out here on the road. It's who you surround yourself with.
My band and crew are really positive guys. But the days get boring. The thing I like least would be the traveling. With my guys and with the way that we live out there, we work out a lot and try to eat right, but we try to basically keep it our own rhythm and our own world. It's never fun to check baggage three or four times in a couple days. But it's all about the fans for a performer. I look out there and there are people that, I know, their day is changed because of our contribution to it. They really look forward to meeting me, or seeing me and that's really the thing that keeps me alive."