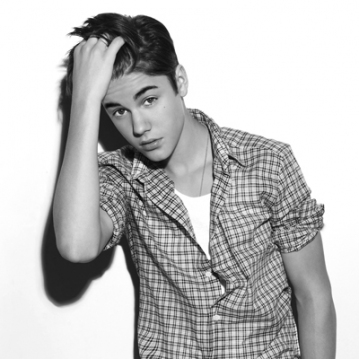 Welcome to 2013, a new year with renewed hopes and possibilities. Beginnings are great; they set the stage for our visions to come alive. This year, in the wake of Super Storm Sandy and the Newtown, Connecticut tragedy, it is time to collectively dream of a safe and peaceful world for our children and for all of us -- on this great adventure we call life.

I was excited to venture into the world of Justin Bieber. Aside from my Usher interview a few years ago, I have not had this caliber of assignment since social media exploded onto the scene. And it was interesting to learn that Bieber was discovered on YouTube and rose to stardom because of the digital age. The rapid proliferation of internet communication caused this young teenager to become a household name in just about a year. Bieber admitted he has to work diligently to stay positive, focused and confident.
There have been many challenges with instant fame; losing anonymity is just the beginning. Bieber cannot go out in public without being recognized. He has not been able to have an uninterrupted meal in a restaurant for almost two years. He sometimes feels lonely and was even accused of fathering a young girl's child although a paternity test thwarted the mother from further accusations. But Justin Bieber is a fantastic performer who inspires his audiences. His newest Album Believe made a "Belieber" out of me.
A few years ago I had the opportunity to interview a neuropsychiatrist who studied the brain. She offered suggestions to improve our capacity to learn. One of her recommendations was to listen to fast paced music like hip- hop. When I first heard Justin Bieber, the quick tempo required me to pay more attention and I was able to use his music as a tool for expanding my brain's capacity to process information. Rather than tuning out – I tuned in and realized he is a modern day musical and performing genius. Some compare him to Michael Jackson, Elvis and The Beatles. When you recognize his multi- talented abilities you too will probably be amazed. Here's some of Bieber's back story.
Justin Bieber started singing when he was 12 and finished in second place when participating in a local singing competition. "The other people in the competition had been taking singing lessons and had vocal coaches. I wasn't taking it too seriously at the time, I would just sing around the house," he recalled.
He and his mother opened a YouTube account and posted his video performances on the website. "I put my singing videos from the competition on YouTube so my friends and family could watch them," he stated. "But it turned out that other people liked them and they started subscribing to too." While searching online for a video of a different singer, Scooter Braun, a former marketing executive in the music industry, clicked on one of Bieber's 2007 videos by accident. He liked what he saw, pursued the theater Bieber was performing in, located his school, and ultimately contacted Bieber's mother. A demo was made in Atlanta and Usher, the R&B singer/songwriter soon signed Justin to Raymond Braun Media Group (RBMG), a joint venture between Braun and Usher and then Usher sought assistance in finding a label home for the artist who helped get an audition with "L.A." Reid of Island Def Jam Music Group. Reid signed Bieber to Island Records in October 2008 when Justin was 14 years old. As he nears his 19th birthday, Justin Bieber faces the big shift from being a teen idol to an adult performer and maybe, a new incarnation of his music will emerge to bring even more colorful tones to his already innovative music.
Bieber was recently interviewed by Oprah and shared some interesting perspectives. He talked about being bombarded by thoughts that keep him up at night and actively working to find ways to clear his head. He also spoke about his on-off girlfriend Selena Gomez whose relationship continues to morph, yet remain unclear. But a loved-up Justin Bieber was full of praise about her saying, "I am all about genuine people, and I feel like she's just one of the most genuine people and has a good heart. And I can talk to her about anything. 'Being a teen heartthrob is fun and I love the screams - that's not a bad thing," Justin admitted. "But I want it to be about my music. I want people to respect my music. It's not about people putting someone with a nice smile and good hair on TV."
Bieber said he wants to be remembered for being himself. He brings a certain style to his work, having paid a high price for stardom. He brings a lot of color to our world through his music and lyrics -- inspiring us to bring more love into our lives. From his most recent album, Believe, I love the chorus from the song, All Around The World:
All around the world people want to be loved
All around the world, they're no different than us
All around the world….
Let's start the New Year by bringing more love into the world and creating more believers in the great possibilities that we can work together and be instruments of change.