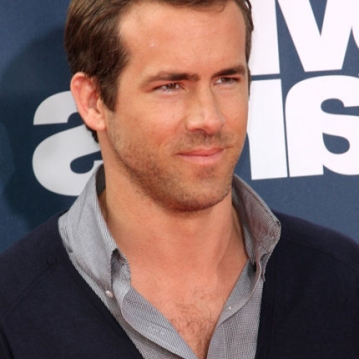 Canadian Ryan Reynolds failed his high school drama class, and used to work in a grocery store like his parents did. He admits, "I never took acting classes, but I knew I could do it based on the skill with which I lied to my parents on a regular basis!" However, in the early 1990's he appeared with fellow Canadian actors in the Nickleodeon series "Fifteen" taped in Florida. This is where he met Canadian singer-songwriter Alanis Morissette, who he was later engaged to between 2004 and 2006. Two years after they called off their engagement, he married fiancée Scarlett Johansson in a private Canadian ceremony.
When the Nickleodeon series ended, Ryan returned to Vancouver to act in TV movies. As a result of his bad luck, he quit acting. After bumping into a fellow Vancouver actor, the two left for Los Angeles, California to pursue their acting careers the American way. Ryan jokes, "I'm not a hockey fan, which is probably why I had to leave Canada in the first place."
In 1997, Ryan landed the role of Berg in "Two Guys, a Girl and a Pizza Place". The first season was a dud, but the second season was a minor success that led to additional film roles for Ryan – most notably in a remake of The Amityville Horror.
Ryan is thankful for acting and says it "has given me a way to channel my angst. I feel like an overweight, pimply faced kid a lot of the time - and finding a way to access that insecurity, and put it toward something creative is incredibly rewarding. I feel very lucky." Also, "I have a discipline that has served me very well in my career and in my personal life... and that's gotten stronger as I've gotten older. I've always felt if I don't just have a natural knack for it, I will just out-discipline the competition if I have to – work harder than anybody else."
Perhaps you have seen some of Ryan's hard work in his movies Waiting..., Just Friends, Definitely, Maybe, The Proposal, Buried, and X-Men Origins: Wolverine. He is best known for his role in National Lampoon's Van Wilder, which he claims, "made me the party guy". I would walk into a bar and people would start lining up the shots. You could sum up my career at that point as a free shot at a bar. I know it affected me more than I'm revealing, because I know that I went years without even saying the words "Van Wilder". Even now, when I say it, it's a bit of a big moment for me." In fact, he says when he travels, "I get noticed depending on where I am. I have no problem wandering all around Spain. But the Germans - ah, the Germans - they are like, 'Oh! Van Wilder's a party animal!" How strange that the Spanish do not recognize him immediately, but the Germans do.
What's Ryan been up to?
Movie: "The Change-Up" Opens: August 5
I bet Ryan wishes he could be incognito by swapping places with someone outside of the spotlight. Speaking of trading places, he stars alongside Jason Bateman, where the two wake up in each other's bodies in the comedy The Change Up.