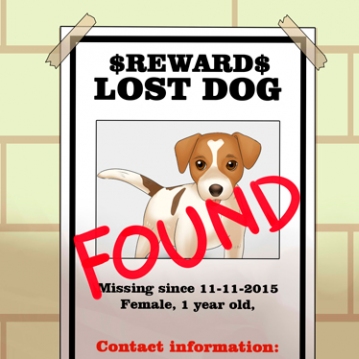 Gwyn Brook and her yellow lab Mylie were enjoying their regular Monday morning walk. Hurricane Matthew was headed towards Florida by Thursday. They noticed a loose dog in the distance. When they reached the area where the dog was spotted, it had disappeared. Gwyn figured maybe s/ he had found its way home.
Later that afternoon, they went out for a quick walk. Guess who they found? The shepherd mix was not easily enticed to follow them home. Patience, calmness and Mylie's sweet demeanor finally won her over. They brought "Foxy" home. She was very thirsty. This nice older gal seemed to appreciate the hospitality, food and a soft bed. That afternoon, at the vet, she was checked over and scanned for a microchip. Nothing. The vet estimated her age to be 10-15 years old. Gwyn was grateful to have found her, and that she would be safe, with a major hurricane barreling toward the Sunshine State.
The local shelter was contacted, reporting a FOUND DOG. They called local vets and emailed her photo. No one recognized her. Gwyn and her staff made flyers and posted them.
As the week went on, the dogs got along fine. Being a generous canine hostess, Mylie gladly shared her home, owner, and choice of beds. Foxy didn't hear well, enjoyed walks and had excellent house-manners. Over a week later, the phone rang. "I think you may have my dog. A friend saw one of your posters and passed your number along", he said, sounding hopeful.
He explained he had taken her outside to do her business. It had started to rain, and she had wandered off. He had searched frantically, and had just about given up hope. Gwyn asked him to bring pictures and proof she was his.
"Is this the dog you found?" Joe asked, showing a framed photograph of Lucy with two dogs. She recognized him and was happy to see him. They realized Lucy had crossed two major roads, one being a six-lane highway. Amazingly, she had survived two weeks, without a scratch. A guardian angel had to have been watching over Lucy during her adventure. His wife had found her in a dumpster as a puppy, 17 years ago. His wife had since passed away.
As their visit came to an end, Lucy went and sat next to each of her caregivers, as if to say thank you. "I am glad we could help such a sweet, gentle dog, and reunite her with the family she had always known. I'd like to think if my dog was ever missing, someone kind would help her out," stated Gwyn.
Ensure your dog is never "on a poster":
1. Have ID and collar on your dog at all times.
2. Microchip and REGISTER the chip. Many times lost dogs are found, with microchips that were never registered!!
3. Have a recent photo of your dog, on your phone and in print.
4. Keep a watchful eye on your pet. If they do not come when called, they may not be off leash outside.
5. If you have a fenced yard, make sure the gate is secure. Check the fence and make sure it is escape-proof. Check the bottom cannot be dug out.
6. Walk your dog regularly - daily. Why is this so important?
a. Your dog will know his/her way around the neighborhood and the routes home.
b. Your dog will be less bored/likely to escape.
c. They look forward to that private time with you, and "leaving notes" around the neighborhood.
d. People will recognize your dog and who s/he belongs to.
e. It's GREAT exercise for both of you!!

If your dog is LOST:
1. Contact local Humane Society, shelters and Animal Control to file a LOST DOG report.
2. Post flyers with a photo, description, phone number and REWARD.
3. Keep asking (with your voice and in your mind) your dog to come home safely.
4. Never give up hope!
---
Tina Valant-Siebelts is a confirmed dog-o-holic, mom to many rescued pets, who volunteers with numerous organizations. To "fill all those dog bowls," Tina is an award-winning photographer, writer & event coordinator. www.HaveDog.com