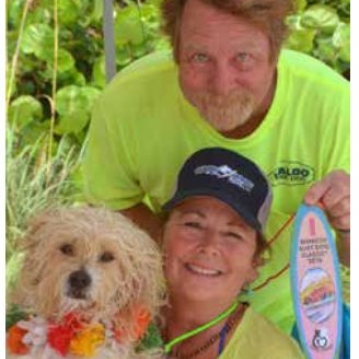 Hurricane Gaston had made a threat earlier in the week, but never appeared. It turned out to be an epic day for Jupiter based rescue shelter, Furry Friends. It was a bit overcast, bringing relief from the sun to the estimated 1800 people attending Hang 20. "We are really pleased with all the participation from sponsors, guests, volunteers and all those who came out to "Hang 20"! "This is the Humane Society of Greater Jupiter/Tequesta aka Furry Friends' largest annual community fundraiser, in its second year.
Canine competitors were sectioned by size. They were amped to take to the Atlantic and dib the best rides. None of the dogs appeared to be clucked (afraid of the waves), while they waited in the impact zone. Experienced surfers made it into the soup (shore), with ease. Other surf strategies included:
Aerials - grabbing air

Backsides - tail toward the shore

Charging - aggressively riding the wave

The ocean wasn't the only place for dirty lickings (gnarly wipeouts). Landloving spectator dogs enjoyed sandy, salty noses, rolling in seaweed, and lots of cuddles.
Like a shark looking for an opportunity, cancer appeared in one of the canine surfers. American Staffordshire Terrier Titan and his family faced his prognosis with courage and determination. Approaching 13 years old, he began treatment just two weeks before the event. At Hang 20, Titan claimed second place in the large dog group. "Titan has defied the odds. We are so proud of him. He is one of the sweetest and toughest patients ever", added his veterinarian, Dr. Federico Latimer.
Waldo was basking in the glory of defending his first place title (medium). Weeks later, Waldo and family flew to their second home in Surfer Beach, Eleuthera (where else would Waldo live?). Then, Hurricane Matthew headed toward them. "Like patiently waiting for the right wave to come along, we waited for the ALL-CLEAR. We made it through, unscathed," stated Susan Kelly-Leverette, Waldo's mom.
Carly, a black mouth cur mix was biding her time at Furry Friends - for almost a year. Local surfer twenty-one year old Sam Chiet had an idea to train shelter dogs to surf. "It would give them time out of the shelter, socialization, and exposure to the general public," he added. A medium sized, sturdy dog with a short coat seemed like a good candidate. "Carly was calm, trusting, and definitely enjoyed her time out!" They worked together for three weeks before the inaugural Hang 20 event. "She took to surfing, like a fish to water," stated Sam. She competed well, but didn't place. She got an even bigger prize: she won the heart of the Cassidy family, who adopted her. An image of Carly fiercely riding a wave became the poster for the second annual Hang 20, Aug 27, 2016. Now, somewhat of a local celebrity, Carly returned to compete, fan club in tow. Sam has now worked with over 30 dogs, teaching them confidence in the water, balance on the board, and adding surfer to shelter dogs' profiles. Cowabunga, life sure is sweeeet!
A totally radical time was had by all.
Second Annual Hang 20 results:
Small - winner: Zack Oliver

Competitors: Brodie, Duncan, GoodBoy, Hobie, Princess

Medium - winner: Waldo
Competitors: Buddy, Bru, Carly, Forrest Gump, Ivy, Jumper, Molly, Shadow, Utah

Large - winner: Samuel
Competitors: Diesel, Layla, Mr Barkley, Sysco, Titan

SUP winner: Bonnie

Competitors: Gus, Hobie, Layla, Sandy, Tiki Furry Friends plans for Hang 20 #3, August 26, 2017.