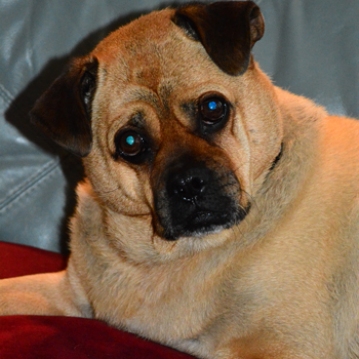 Do you eat from dirty dishes?
• Is the only fare served to you the same thing, day in, day out?
• Do you travel unsafely, restraintfree while in a moving vehicle?
• Do you accept bare minimum commitments from your loved ones?
• Are you uncomfortably overweight, but you're given the same amount of food?
• Enjoy days-old water? Or worse, is the only water available from an open toilet?
• Are you given food/treats that even though they may taste good, are NOT healthy (made with by-products, chocked with preservatives/ingredients that cause discomfort)?
• Is your food and beverage served on the floor, forcing you to fight gravity for proper digestion?
• Do you do what you want, when you want, even though everyone else follows guidelines?
• Are you given "medicine" to control your behavior, because
you weren't properly raised/ socialized?
• After you've made it very clear you feel highly uncomfortable about a situation, you're forced anyway???
• Has someone invaded your personal space or touched you without your permission?
Any human would be mortified to be the recipient of the above, and yet many of the above behaviors are a daily occurrence for many dogs. It reminds me of Congress. They pass bills and create laws for their constituents, but are immune from many of the same laws. "Do as I say, not as I do" mentality. They can enact things they are not forced to abide. They collect big fat paychecks and receive tons of perks, even after they leave office. Hardly seems fair.
So why do some people act like Congress, when it comes to their dog? Does it really take that much extra time to clean your dog's bowl with hot, soapy water after they eat? Isn't knowing you've killed germs and your beloved furry family member having a clean bowl worth that extra moment of your time?
Owners can no longer plead, "That's the way I've always done it" or "I just didn't know any better".
A plethora of knowledge is at your fingertips, ranging from books, magazines and the internet to an array of experts online and in person, referred by your friends, neighbors, and fellow pet owners. Gasp! A dog-loving family member may even have a helpful suggestion for your dog's behavioral issues.
More than ever, dogs are no longer viewed as common chattel or property. They are devoted family members who serve, protect, and love their human-pack members without boundaries. Don't dogs deserve the same treatment, safety precautions, and attention that we afford ourselves and those we love?
Dog World with Tina by Tina Valant
Tina Valant-Siebelts is a confirmed dog-o-holic, mom to many rescued pets, who volunteers with numerous organizations. To "fill all those dog bowls," Tina is an award-winning photographer, writer & event coordinator. www.HaveDog.com
Manny is a senior puggle. At forty pounds, he is in great health and has lots of love to give. www.CompassionatePugRescue.com