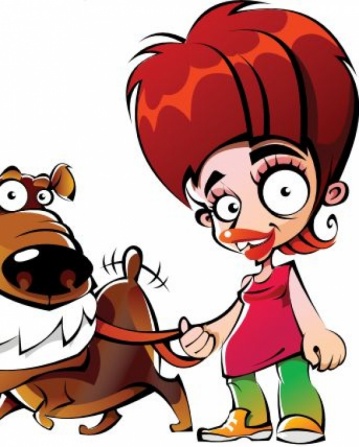 While attending a pet event or a green market, you're bound to see people with pets. I enjoy seeing the relationship of pampered pooches with their people. However……I also notice many dogs on retractable or flexi leads, whose owners are not paying attention. As they chat or eat, their dog is ten plus feet away. For some strange reason, my leg seems to have magnetic qualities for these painful cable burns.
People and dogs can get tripped, tangled, or injured by an unlocked retractable. "By using a retractable, the handler loses the opportunity to educate their dog on how to walk properly on lead. The dog loses the association with its handler because they can get (and stay) far away", states Madison Moore, a positive dog trainer. "Retractable leads foster the dog's disassociation with the handler----the exact opposite of what we strive for in our relationship with our dogs."
Back when we had just two rescued aussies, we attended basic obedience (which I refer to as "people-training 101"). The trainer presented us with a choice: donate our retractable leashes or toss them in trash. WHAT? Is she nuts? I love these things. It enabled my more active dog to get more exercise (or so I thought). Rolling my eyes, I begrudgingly placed them into the donation bin. She gave us six foot leads. The boys now had to stay next to us --- under control. No, it was not immediate. It required patience, training and attention – aspects of responsible dog handling. With the loop of the leash secured over my wrist, I felt safer. If I accidentally dropped the lead, or the dog jerked it from my palm, we would still be attached.
That trainer's lesson has been reaffirmed for me, many times. During a K9 demonstration at a pet event, an air gun fired. Two retractable handles were ripped from the owners' hands. Like the bulls of Spain's San Fermin festival----the two large dogs charged, through the crowd, toward traffic. The clanking of the plastic case on the pavement behind them scared them even more. They ran faster. My heart nearly stopped. Luckily, we stopped them before they met a terrible fate.
At another event, a car backfired, causing a loud BOOM. Terrified, a little dog on a retractable, took off. She was stopped, just in time. No one needs this kind of adrenalin rush.
It is a argument with a family member. When she walks her small dogs, each hand holds a leash case- --no hands available. With multiple standard leads, I can put all dogs on one arm and still have one free hand, for poo patrol, a friendly pet, etc.
At conscientious pet friendly events, retractables are NOT ALLOWED, for the safety of pets and people. Pick one up at a pet supply, you'll probably see a warning on the box. Is this something you want to use on your precious pet? Or near a small child? Along with most trainers and behaviorists, I strongly encourage you to consider using a standard 4' to 6' lead. Your dog (and others) will thank you!