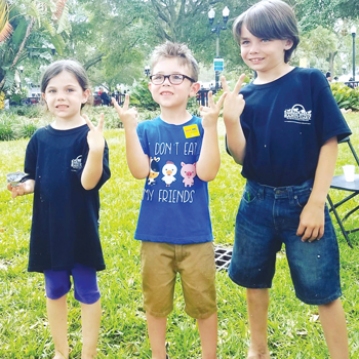 Oh, the comfort of gooey, tasty, salty, soft melt in your mouth pasta. I get hungry just thinking about all the different types of vegan MacnCheeze. The possibilities are endless, there are so many good vegan cheese choices right now on the market. My two top favorites are the Daiya Cheddar Style slices and the Miyoko's Chive Artisan Vegan Cheese wheel, and, yes, they do contribute greatly to a great tastebud awakening, earth-saving MacnCheeze.
The reason I am more obsessed than usual about scrumptious vegan fare possibilities is I am in the throes of organizing the Animal Hero Kids MacnCheeze challenge for Saturday, April 13, 2019 at 5:30 p.m. at Green Bar & Kitchen in Fort Lauderdale. There is an Audience Choice Award, where you, supporting an "Animal Hero Kids Voices for the Voiceless" book in every school library goal by buying a ticket, are the judge. Then there are the Animal Hero Kids Coprez Crew of judges, and the notable local adult judges, who will include Torre Washington and Geoff Palmer – the fit, vegan body builders who are buff, macho examples of Animal Hero Kids MacnCheeze Challenge to Save the Earth Judges Khendall/I am Lil bear and Torre Washington are pictured at the Animal Hero Kids Great Vegan Cookie Challenge benefit. Photo by: animalherokids.org how real men are kind to animals.
So far the challengers are Green Bar & Kitchen, the New Vegan Restaurant, Vegan Fine Foods, Vinos Wine Bar at Galt Mile, and more are still in the process of signing up. If you know any likely challengers ask them to contact us at AnimalHeroKids.org

Originally, hailing from England with a family of Irish descent I never actually tasted MacnCheeze – it was vegan – until I was 35 years old. What a discovery!
If you wish to send me your Vegan MacnCheeze recipe, I would like to feature the tastiest choices right here in my column. Please email it to education@animalherokids.org. If you wish to join us at Green Bar & Kitchen in Fort Lauderdale at the Animal Hero Kids MacnCheeze Challenge, go to animalherokids.org to reserve your spot – space is limited!