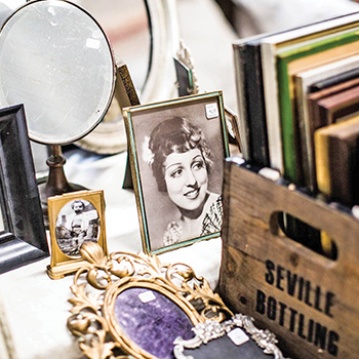 Last month, we explored options for your sentimental photo collection. This month, let's look at other sentimental items and the options we have to organize, appreciate, donate or purge.
Let's begin with that wedding dress! Someone paid a fortune for it. You wore it, you danced in it and you took a lot of photos in it. So now what? It was so, SO meaningful that you entertain the idea of giving it to your daughter to wear at her wedding! And guess what? Chances are your child has her own tastes and wedding plans… so the dress sits, season after season, taking up valuable closet space (or worse, storage space you pay EXTRA for!)

Here are some options:

1. Keep it for your daughter no matter what she says (she might change her mind?!)

2. Sell it online or consign it locally.
3. Donate it to a theatre group as a costume.
4. Take more pictures of it. 5. Ask a seamstress to repurpose the material for something new.
6. Make space in your closet for items you can wear again!
Sometimes we hold on to our sentimental stuff, knowing we really have no occasion to wear it, but feel guilty about the investment, the sentiment, honoring the memories.

By moving on, you release this burden and you gain volumes of closet space to boot (or not to boot… that is the question!)

Cassettes, Records, Video and 8-Tracks
We all have boxes of memories in the form of old technology. Today, although there may be a gem in the mix, most of these outdated formats have been replaced by new tech. If you choose to downsize, declutter or organize your stuff, you may wish to purge some or all of these things. Vinyl is making a comeback. You may want to sift through your collection of LPs and sell online. Or donate and let someone else spend that time with them! You may want to frame the album cover artwork; that, too, has become a thing.
Cassettes, VHS tapes and 8-tracks have little value today. You may gift them to charity, discard, or to preserve memories of baby's first steps, use a professional service to digitize the content to a more useable format like CD or thumb drive. I use Forever Studios in Boca. To assure your priceless memories don't end up in a hot warehouse in another country, go with the local guys.
What about those old concert stubs, baseball cards, buttons, pins and such??
Couple of ideas:

1. Digitize the items.

2. Create a shadowbox collage to display.
3. Donate to family, friends or donation centers.
While we honor our gems, our keepsakes, if they stay stuck in a box in the corner of the closet, they really don't bring us joy. Open up one box this week and sift through the good times. Toss out the stuff that no longer serves you. Appreciate your collections of sentimental items!
Digitize and frame your kid's artwork. Display your coin or stamp collection, or gift your historical stuff to a child so the next gen can see what we were up to last century!!
For a free consultation about YOUR STUFF, don't be shy, call or text me today!
APlusClutterClearing.com, 561-706-7779.