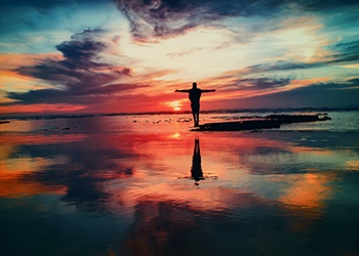 The other night I was staying with my friend Pat in Jacksonville, and after dinner we decided to see a movie. She asked me what I could recommend, and knowing her interest in spirituality and a good love story (who doesn't love a good love story?), I suggested "Made in Heaven," which I had already seen on three different occasions. The Alan Rudolph-directed film is not a great movie, but it is a movie about great things – specifically the eternal nature of true love, as well as the afterlife, latent human spiritual abilities, and reincarnation. The screenplay by Bruce Evans and Raynold Gideon seems to have had a bit of inspiration from Heaven itself. It's not a funny motion picture, so I wouldn't call it a rom-com; but because it features many metaphysical principles, I like to think of it as a rom-con, as in romance/consciousness.
Without giving away too much of the plot of this 1987 picture, Timothy Hutton stars as Mike, a not-so-withit young man on his way to California to find himself. But he soon finds himself jumping into a small lake to save a woman and her children in a car that had plunged into the water; all survive except our hero.
He then finds himself in Heaven with his deceased aunt (played by Maureen Stapleton) who, along with Annie, a highly evolved guide (Kelly McGillis), shows him the ropes of the timeless afterlife. These include the ability to be telepathic as well as teleporting – a "Beam me up Scotty," without any Scotty or beaming except Mike's own intention. As his aunt put it, "You think where you want to go and you're there." These are latent abilities that are seen in modern-day spiritual superhero films like the X-Men saga, as well as in classic Vedic literature like the "Yoga Sutras of Patanjali" from fourth century India.
As this rom-con would have it, Mike and Annie fall in love in Heaven, but their idyllic romance won't last. For in this afterlife love story, boy gets girl, boy loses girl to rein carnation, and the rest of the movie we have to wait to see if boy gets girl again. Mike is given 30 years in his reincarnated self (this time as Elmo) to find her (this time she's Ally).
Ally shows far more evolution than everyone around her because of her development of consciousness in Heaven as Annie. On Earth, she quickly becomes a successful toymaker and children's book writer: "The Care and Feeding of Mike," about her imaginary childhood friend Mike.
(The glimpses of Heaven are more developed in her than they are in Elmo, who also sometimes gets some sense of something beautiful in his past.) Elmo is even given a vision of Emmet, the Guide-in-Chief in Heaven who promised him a 30-year window on Earth to find his Heavenly lover, and gives him inspiration to get his life straightened out in time for his deadline to find his true love. "Just imagine and believe in yourself; it's really very simple," he reminds Elmo, when the young man has fallen off his path with drifting and drink, so that Elmo can get back onto his higher purpose: to find his eternal true love.
Ally, meanwhile, outgrows her aspiring filmmaker husband who seems perfectly happy making TV commercials for dog food and soap.
"You just go out and do it; it's not that simple," he tells her. "You're not like most people." Indeed, she's not. And divorce makes Ally available to meet her true love as well.
As Hollywood would have it, they do in fact meet literally on Elmo's 30 th birthday, the last day he would have had a chance to ever meet her again in this lifetime. And they immediately fall in love, of course, at first sight. I fell in love with my wife of 30 years and running at first sight, too, so I know how powerful that can be. For them, it's right there on a street corner when they're not even looking at each other; they're about 10 feet apart as each senses the other. And this is in Los Angeles (the City of Angels), in case the smog-infested exporter of shlock TV has made you forget its original inspired naming. While the ending is a bit sappy for some sensibilities, there's plenty of inspired metaphysical principles throughout this film to make it a must-see for anyone interested in how higher consciousness manifests in pop culture.