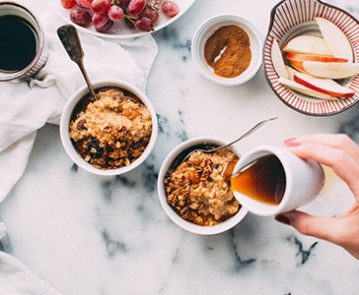 A delicious tomorrow starts tonight! Discover overnight oats—a fun and delicious way to enjoy breakfast! Either add fruit, nuts or other tasty ingredients with your favorite plant-based milk and oats in a mason jar. Mix together at night and let steep in the fridge until morning. When you wake up you'll have a scrumptious breakfast waiting for you.
INGREDIENTS

• 1 cup rolled oats

• 1 1/2 cups unsweetened almond milk
• 1/3 cup plus 2 teaspoons flax seed meal
• 2 teaspoons ground chia seeds
• 1 tablespoon plus 1 teaspoon maple syrup

• 1 cup berries or your favorite fruit (try strawberries, raspberries and blueberries)

• 1 banana, sliced
INSTRUCTIONS
1. Mix the oats and almond milk in a glass container and store covered in the refrigerator overnight.
2. When ready to enjoy, preheat the oven to 350°F and line a baking sheet with parchment paper.
3. In a mixing bowl, combine the flax meal, ground chia seeds, and maple syrup.
4. Transfer to the baking sheet and bake for about 8 to 10 minutes, or until light golden brown.
5. Remove the crumble from the oven and let cool slightly. Divide the oats into two bowls and top each with half of the crumble, berries, and banana slices