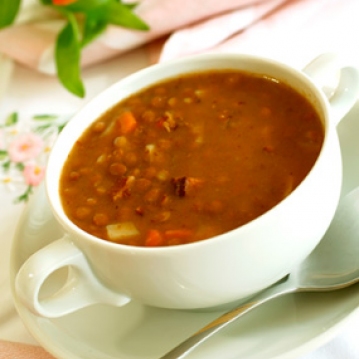 By Caron Barr / caronb123@gmail.comLet this warm soup soothe your
Let this warm soup soothe your soul and your tummy. Each creamy bowl of goodness is packed with fiber, protein and all of the B vitamins (for energy) one body can handle.
It is easy to make, uses only one pan and is a complete dinner all in itself.
Happy cooking...
INGREDIENTS
• 1 cup dry lentils
• 4 cups vegetable stock
• I onion, chopped
• 2 garlic cloves, chopped
• 2 teaspoons ground cumin
• 1 can coconut milk
• 3 tablespoons soy sauce
• 2 cups raw spinach
• Kosher salt to taste
PREPARATION
Rinse the lentils, then put them in a large saucepan. Cover them with water and boil for 10 minutes. Add remaining ingredients except for the spinach. Reduce heat and simmer for thirty minutes (until lentils are tender). Put a small handful of spinach into the bottom of four bowls and cover with hot soup. The heat from the soup will wilt the spinach leaves. Serve warm.