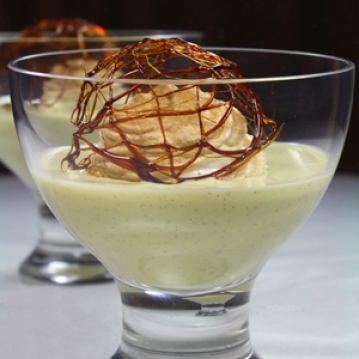 Ingredients for the Crème Anglaise
1 lt. Whole milk
1 Vanilla bean or
1 Tbsp Vanilla extract
8 Egg yolks
½ Cup sugar
Preparation
Prepare a stainless steel bowl that sets in a pan for the Bain Marie. -Prepare a large bowl of ice or iced water. -Split the vanilla bean in half lengthwise. Scrape the pulp from inside the bean with a paring knife. Reserve. 1. Combine the egg yolks and half of the sugar in a stainless steel bowl. Whip until thick and light.
2. In another pan scald the milk with the other half of the sugar, the pulp and the vanilla bean lengthwise.
3. Very gradually pour the hot milk little by little into the egg yolk mixture while stirring constantly with the whip in order to temper the egg yolks until completely mixed.
4. Set the bowl in the pan of simmering water. Heat it, stirring constantly, until it thickens enough to coat the back of a spoon. See pictures at www. chefmariaamado.con in Postres y Reposteria , Islas Flotantes.
5. Remove the egg yolk mixture from the heat and set in the bowl of cold water to stop the cooking. Add the vanilla extracts if you are not using the vanilla bean.
6. Strain and pour in the cups. Refrigerate.
Ingredients for the Meringues

8 Egg whites
1 Cup sugar
Preparation

Preheat oven to 220 F degrees 1. Whip the egg yolks with the sugar until they form soft peaks.
2. Add the meringue to a piping bag. Line a sheet pan with parchment paper, pipe the meringues on it and bake for 55 minutes. Bring to broil until lightly golden brown. Turn off the oven. Keep the meringues in the oven off with the door oven a little open for 5 minutes. Take the meringues out the oven. Reserve.
Ingredients for the Caramel

½ Cup water
2/3 Cup sugar
Preparation

1. In a small pan pour the water and the sugar and cook at high heat until golden brown.
Take the caramel out of the heat; set aside to cool down just a bit.
2. Spray a ladle with oil and with a fork pour a thread of caramel on the top of the ladle until a grid is formed. Let it to cool down a bit. Take the caramel grid out the ladle. In the cooled cups of crème anglaise place the meringues and the caramel grid on top of the meringues. Serve.