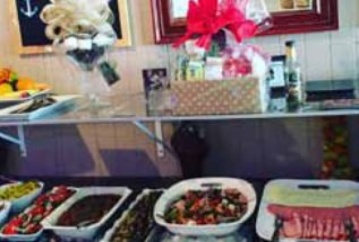 On a beautiful breezy Boca afternoon, we arrived at Talia's Tuscan Table shortly before four pm. As I was perusing the menu to find a starting point for our order, my wife said,"You know, it is so tranquil and relaxing here - it feels like we are on vacation " I reflected for a moment on what she had said and then I realized she was right.
What she meant was that Talia's has a serene, inviting quality that first attracted us to Boca Raton.. The restaurant is at the far end of a one story structure set back from the intersection of Spanish River Boulevard and Dixie Highway. Trees and bushes line the brick paved patio and we could see the brilliant blue sky without the interference of austere cement encrusted high rises that are popping up all over the county.
The drift today is fast and somewhat edible food, but fortunately proprietors Frank and Olga Todisco buck the trend by focusing on, above all, quality. At Talia's, not only do you get the finest and freshest ingredients, but the portions are prodigious and the prices unbelievably low. Recently, an acquaintance of mine invited four staffers from a nearby university to join him for Talia's Lunch Buffet. At $10.99 per person, his guests could not believe the quality and variety available on the buffet tables: soup, mains, pastas, salad etc- an immense moveable feast, so to speak.
The interior of the restaurant contains two dining rooms, each with an ambiance that is charming and warm. Start with a huge bowl of Olga's fabulous Chicken Soup ($6) loaded with chicken, fresh vegetables and a savory broth. Salads are gorgeous creations filled with all kinds of delectable ingredients.
The Mediterranean Greek Salad ($9.99) is an artistically constructed fantasy packed with roasted red peppers, artichokes, tomatoes, lettuce, Kalamata olives and more. The serving is capped with a heap of fragrant Feta cheese and a magnificent balsamic dressing provides even more excitement.
Service is always friendly and exceptional. Gluten free items can be provided upon request. For the sake of variety, the staff suggested that the Snapper Livornese ($16.95) be prepared with a picatta sauce. The recommendation turned out to be sensational. Chicken Cacciatore ($14.95) hits all the right notes with is superb blend of fresh peppers, olives,, capers , savory tomato sauce and tender cuts of filet.
If you are thinking of dessert, order the homemade Tiramisu and/or cannoli – both are dazzling delights. Depending on your mood, there is an enormous range of signature sandwiches, risottos, pizza and more, Wine, beer and other beverages are also served at very modest prices. Takeout, delivery and catering are available upon request.
The very good news is that a second Talia's Tuscan Table will open soon at 132 N.E. 2nd Street, a short hop from Boca's Mizner Park. Keep up to date by visiting Talia's Tuscan Table website at www.taliastable.com
4070 North Dixie Highway • (Tel) 561-362-0874 • Lunch and Dinner