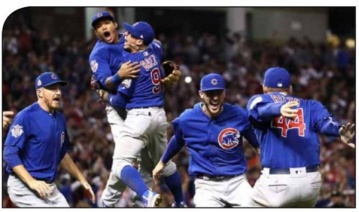 I'm one of those people who's never quite understood the value of resolutions, especially ones made at the start of the year. Trying to quit smoking, lose weight or find that one special person are all laudable goals, but shouldn't they be things we want to achieve throughout the year - as opposed to relying on an artificial deadline to affect behavioral changes? I say this because this sports year has seen the end of two very famous and, at times, very silly sports "curses".
Most recently, over 100 years of futility (100!) was ended when baseball's ultimate lovable losers, the Cubs of Chicago, won the World Series in seven thrilling games. For fans of that long suffering franchise, it was the culmination of years of hoping and wishing for that which seemed unattainable – until they hired the right guy.
Cubs' ownership brought in former Red Sox President and resident whiz kid Theo Epstein to run the show, which made a lot of sense since he was the architect of Boston's run of titles which similarly ended that franchise's years of losing. Epstein did what all good executives do – he evaluated the personnel he had, made shrewd moves to attract the necessary talent, and scouted and signed good players who eventually contributed to them winning the World Series. It had nothing to do with curses or billy goats (for those who don't know, the myth was the Cubs' losing was as a result of a man who years ago was not allowed to bring his goat into a bar and thus he cast a curse on the Cubs. I'm not making this up) but instead has to do with getting good players, a good manager, and making the right player moves. In fact seasoned baseball observers could see this title run develop before it began; after the Cubs beat Cleveland for the title, speculation is it might happen a lot more.
Speaking of Cleveland, they went through their own deliverance of sorts when the Cavs came back from a 3-to-1 deficit to defeat the Warriors, thereby giving the former "mistake by the Lake" its first professional sports championship since 1964. For denizens of that burg (and I kid about the name – I've been there, much has changed) it was a long time coming if only because their years of losing weren´t confined to a single franchise, but to a whole city. It encompassed the Browns, the Indians (ironically) and the Cavaliers (previously known as the Cadavers, because they were so bad). So what changed? Did a voodoo curse get lifted? Someone sprinkle holy water on the Terminal Tower? No. The best basketball player on the planet decided to return home and play for his hometown team. Lebron James' decision singlehandedly changed the course of a losing franchise and immediately attracted other talented guys to join him on his quest. No luck, no curse-breaker – just the best people doing their jobs better than anyone else.
So the next time someone mentions being cursed, or having a streak of unbreakable luck, ask them to look inward and not outward – chances are that's where they'll find the right answer.
Now, how about those Dolphins? (last title 1973)