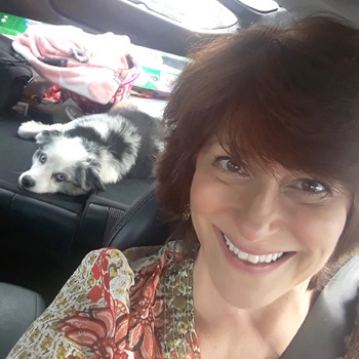 Like a murmuration of starlings, thoughts and ideas flutter through my head daily. Multitasking at warp speed, I create reminders for what I need to do, and when. This includes notes, lists, visual clues and timers.
Friday, a text was received from a rescue pal for an Australian shepherd in need of a new home. This is my breed. At one time, the "AusSiebelts" was a six-pack. Having assisted rescue for over two decades, I have built an extensive network of resources. Adding another ball in the air, I sprang into action. Within the hour, possible foster-toadopt homes were secured. That evening, I met the owner, evaluated and photographed the dog. She had an aquarium. I mentioned I had a bajillion guppies, and would she like some? We made arrangements for me to pick the dog up the following day. She wanted one more evening for her two young children to say goodbye. This was going to be hard enough, goodbyes are weighted in sadness. I suggested a farewell party, to make this a happy send-off for the dog's next chapter.
When I don't have a photography gig, weekends are a whirlwind of Tasmanian devil speed duties, beginning long before sunrise. Setting the timer for when I would need to leave get the dog, I taped a note to the timer:
Get Joy Bring guppies
The day went by quickly, the timer chimed. I bagged a couple pair of iridescent guppies, tiny crayfish and pond plant. I brought bubbles for the party and camera to capture the memory of this special day. The owner made a delicious (dog-safe) carrot cake with peanut butter frosting. I took pictures of them with Joy, the dog. The little girl was taking it very hard. It was obvious she and the dog love each other very much. Elevated allergies, a high-energy breed and hectic schedules were not a good combination. Affirming this was the best option, I promised her I would find Joy the very best home and keep them updated. The farewell party was not without tears (me included); nonetheless we had created a much lighter, happy environment. Undoubtedly, Joy felt it.
Upon arrival home, Joy was carefully introduced to our dogs, outside. All was well. Bob was making dinner and asked, "By the way, what did your note mean?" After decades of marriage, he's practically immune to my craziness. "Note? Oh, THAT note. It was a reminder for me, today", I replied. As I was taking recycling out, atop of the paper pile was that note. It got me to thinking – far beyond my intended reminder. We can all get joy. Out there trying to get to us, is more joy, a glimmering beacon in the tunnel of daily life. Halt the negative thoughts before they form into words. Break old patterns weighing you down. Joy awaits us in every situation. Celebrate the time and memories shared, instead of being selfish and sorry for the loss. Have a farewell party at the end of a relationship, or a life. Be grateful for the lessons learned. Say YES and invite endless possibilities. While on the path to discovering more joy, be mindful. Pay it forward. Lead with your heart, bring something extra and unexpected to every moment. Let your thoughts, words, actions and deeds reflect the kindness you want more of – whether you arrive with a smile, a treat or even guppies.