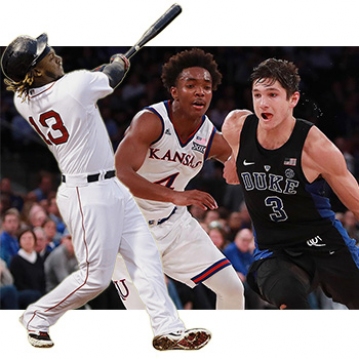 Normally, when we meet in this space, time and relevance limit the discussion to only one topic per column, which is usually good enough. But for this month's visit, I thought we'd do something a bit different. As a teaser, in the future we'd like to get the view of an expert for a baseball overview, but with so many things going on in the sports world, I thought it better to review a range of topics relevant by the time you read this note. So, here goes…
Baseball 2019: Following a flurry of off-season moves, several franchises have either remade themselves, or taken a step back. Big free agent names like Machado (San Diego), Harper (Philadelphia) and Donaldson (Atlanta) found new homes, while some, like former All- Star starter Dallas Keuchel, have yet (as of this writing) to find a home. (Maybe he resigns with the Astros?) Either way, it appears the idea of parity in baseball is just that – an idea. The strong AL teams (Boston, New York, Houston and Cleveland) and strong NL squads (Atlanta, Washington, Chicago and Los Angeles) just keep adding or subtracting pieces depending on their needs and spending habits. It's one of the reasons baseball needs to seriously consider adding a salary cap, so all franchises can compete on a somewhat level playing field. Say what you will about the monopolistic NFL, its rules force large markets to compete under the same financial guidelines as the small cities, which is why Green Bay and Jacksonville can fight it out with The other big baseball news is the rule changes. A pitch clock was introduced during spring training in an effort to speed up the game; same with mound visits by a manager and commercial time between innings. There are also changes to how we will elect the All-Star teams and to the trade deadline, but more about those ideas another time.
March (into April) Madness: The Final Four will be played in Minneapolis the weekend of April 6, but the frenzy of the early rounds will have concluded by then; like Major League baseball, there will be a tendency to choose traditional favorites (Duke, Kentucky, North Carolina, Kansas) but the beauty of the tournament is the unknown, be it a Loyola of Chicago or a Butler, making it to the end. This year, keep your eyes on Gonzaga, Texas Tech, Nevada and Virginia.
Masters Golf: We'd be remiss if not a mention was made in an April column of golf's first major championship. Presented with limited commercial interruption (even from such modern notions as racial or gender equality) the gathering at Augusta is unmatched in beauty and drama. This year the names Woods and Mickelson will be heard, but my choice to wear the green jacket on Sunday is a European, Italian Francesco Molinari (but watch out for Jupiter resident Brooks Koepka).
So, what do you think of our first sports potpourri? It may be a one done, or it could become a staple. Stay tuned... and cheers!!