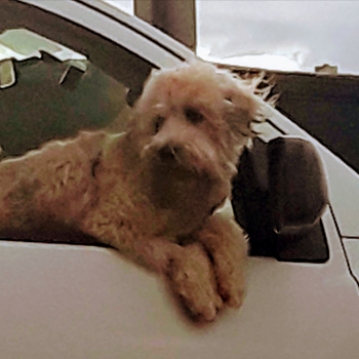 To "fill all those dog bowls," Tina is an awardwinning photographer, writer & event coordinator. www.TinaValant.com
What the paw print is going on lately? Nearly daily, I have noticed careless canine car riders. This extends beyond a furry snout sniffing the air from a cracked window. Small dogs on drivers' laps, barking at passing vehicles; large dogs dangling halfway out, from wide-open windows. All mentioned dogs were naked - without collar, harness or leash.
But, that's how you've always ridden with your dog, you say?
That's what daschund Gretchen's mom said. Then her dog squeezed out the window at a red light. She ran south. Every time someone got close, she dodged. Had she been wearing a collar/harness with a leash, we would not have had to chase her until she was exhausted, which presented other risks: traffic and overheating.
That's what cockapoo Muffin's mom said. Back at home, her dog's eye was red, watery and bothering her. A small piece of debris was removed, by the vet. She has to administer eye drops twice daily, and hope there is no further damage. A wet surface like an eyeball can be a magnet for dust, gnats and gravel as we drive around. Is your dog's eyesight and discomfort worth this joy riding risk?
That's also what English mastiff Roscoe's parents said. After sighting a squirrel, the affable dog lunged from the moving SUV, nearly being hit by a car. He survived, with some road rash, a cracked upper canine tooth and a broken shoulder. His parents maxxed out their credit cards after visiting the ER vet and months of rehab. Roscoe sports a large scar. A very expensive lesson learned.
Whether you're taking your dog to the vet, on a joy ride, across town or cross-country, the best and safest way to transport a pet is crated. What if, God forbid, you're in an accident? The pet could escape or be thrown from the vehicle. Having had five full-sized rescued Aussies at one time, this was not an option. We immensely enjoyed staycations to Jupiter dog beach and jaunts to our favorite dog-friendly accommodations, from the Panhandle down to the Keys. In the car, dogs are always on snug collars with ID, and attached to their six-foot leads. Snug: tight enough, so no more than two of your fingers fit between the collar and the dog's neck. NEVER use retractable/flexi leads.
Make sure your pet always has a collar with ID on. Oh? You think you don't have to worry, because your pet is microchipped? I've been in rescue over 25 years, I don't own a scanner. What if it occurs at night and the closest vet is not open to scan a found pet?
Chips ghost, can migrate, and not all readers pick up every chip.
Tag suggestion: Do not put the dog's name on the tag, for security reasons. Last name and two phone numbers on one side. On back: NEEDS MEDICATION, vet's name and number. If you have a super cute pup, it's more likely he/she will be returned if the finder believes they need medicine.
With a newly rescued/ unfamiliar dog, or when driving a leg on a transport, CRATE them if at all possible. What if, God forbid, you're in an accident? The pet could escape or be thrown from the vehicle. Crating contains them, for their and your safety. Buckle a snug collar with ID. If crating is not an option, double up: collar and leash AND harness on leash. Both with ID. I have tags that just say: FOSTER and two phone numbers. When the new tag is made, they mail me back the foster tag in the SASE included. There are numerous cases where a scared dog backs out of a harness and bolts. Recently this happened to a friend of mine. Her large rescued puppy got spooked, backed out of the harness and took off. They were able to catch her, but it shaved a couple years off my friend's life. The lucky escapees are found or trapped days later – thin, scratched up. The others may be found - no longer alive. Avoid the risks, our dogs are depending upon us for their care and well-being.