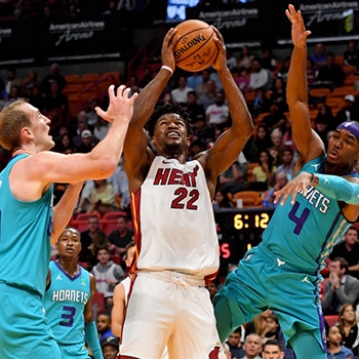 When you do a year-inreview column, the temptation is to favor your personal biases – that is, to overlook that which you find uninteresting, or not in your sports wheelhouse. With that in mind, I asked for suggestions from a local celebrity who is plugged in to our sporting culture. We now present, with an assist from my good friend D.M. (he's shy), the top sports stories for 2019, South Florida style. Feel free to disagree.
High school perfection. We've always known South Florida was a hotbed for high school football talent, but this year was special. Of the schools eligible for state football titles, South Florida entries went seven-for-seven. Perfection. No wonder our schools' parking lots resemble a coaches' convention, with everyone clamoring for this talent. Congratulations to Columbus, St. Thomas Aquinas, Miami Central, Northwestern, Booker T. Washington, Chaminade-Madonna and Champagnat Catholic.
Panthers' makeover. Recently I composed a wish list for area professional teams. For the men on skates I hoped for more appreciation for the organization's efforts towards winning. Bringing in a championship coach in Joel Quenneville, and the signing of free agent goalie Sergei Bobrovsky is proof they want to win now. Presently they are outside the playoff race, though there's still half a season to go. Nonetheless, it's an "A" for effort.
Heat coming on. Ever since the Big Three were no more, the Heat resumed being that "meh" team – not quite good enough to win titles, but not bad enough to tear down and start over. Coming into this year, there was no reason to believe that would change, despite the addition of All-Star Jimmy Butler and rookie Tyler Herro. Well, guess what? Check the standings, because your local hoopsters lead their division, and, as of this writing, have the third best record in the conference. They still need a piece or two to reach elite status, but this team definitely deserves your support – or at least your attention.
Collegiate reversal. Coming into this season, our thinking was that among the state's Big Three college football programs, Miami would shine, UF would be okay, and FSU might struggle. Well, we were one for three. FSU did struggle – so much so that it fired Coach Willie Taggart mid-season, and replaced him with Memphis coach Mike Norvell. But the surprise was how average Miami was, also finishing a pedestrian 6-6. Manny Diaz must make an impact next year or he, too, may soon be looking for work. As for Florida, Dan Mullen has clearly established UF as the preeminent state program following a 10-2 season and an Orange Bowl berth. If he can match his on-field excellence on the recruiting trail, Florida could be ready to join that handful of schools that compete for a national championship. Side note: FAU coach Lane Kiffin succeeded in winning enough games to convince another Power Five school, Mississippi, to take a shot on him. Good luck with that, Rebels.
Professional Futility. Unfortunately, the top story of the year in our parts remains professional football frustration. When you're two games into a season and people are wondering whether or not you're the worst team ever to suit up, you know you're in trouble. To their credit, the Dolphins won a few games, and will not finish with the worst record; yet that success probably deprives them of a chance at a franchise QB. Hoping your executives make the correct draft choices is a gamble most fans would not want, but that's where your team is. Consolation prize? The other Florida teams in Jacksonville and Tampa Bay will also miss the playoffs.
So, as we close the book on 2019, the best word we can choose to sum up the year is hope. Hope for a better future, hope for more success, and a hope you and yours have a successful and safe 2020.
Cheers!