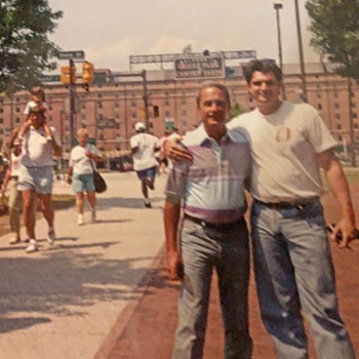 Hi. Time to enter our Wayback Machine and set the dials for December 22, 2003. It's a Monday night, and the Green Bay Packers are in Oakland to play the Raiders. It's three days before Christmas, and while the focus is on Packer QB Brett Favre, it's not for the usual reasons. You see the day before, Brett's dad – Irvin Favre – had passed away.
Like many young men growing up at that time (and now) Favre worshipped his dad; his dad was his first coach, and the guy Brett went to when things – both on and off the field – were not right. Losing him the day before a crucial inter-conference game surely meant Green Bay would be without their main man.
Instead Favre played – did he ever. Four touchdown passes and 311 yards in the first half. Nine straight completions at one point. Even the Oakland crowd – notorious for giving opponents a hard time – cheered wildly for Favre. Why? Because through a dark moment in his life, Favre summoned the strength and focus to do what he did best. What his dad taught him to do. And that crowd – those in Oakland and those watching on national television – applauded that feat, because it spoke to them in a very personal way. Not many of us will experience the sort of trial by fire on a national stage that Favre did that night, but there are countless stories of people in everyday life doing the extraordinary following the loss of a close family member or mentor. It's done because that's what their parent or loved one would want them to do, and by doing so the athlete – or person – honors the memory of that loved one. The excellence which followed was the greatest tribute that son or daughter could ever give the parent. It's a cliché, but it's a cliché because it's true. See, the human condition is wired for reacting to adversity; sometimes the actions are inconsequential, and sometimes you throw four touchdowns in a half while leading your team to the playoffs.
And Favre isn't alone. In 2006, following the death of his father two months earlier, Tiger Woods put on a clinic to win the Open Championship at Royal Liverpool. After the last putt dropped, Woods fell into the arms of caddie Steve Williams, sobbing uncontrollably, but also realizing he'd given his dad one last gift. Same was true for Michael Jordan, who returned to the NBA following the murder of his dad (and a brief trip to Minor League baseball) and won the title, on Father's Day no less. NBC's cameras followed Jordan to the locker room and captured the poignant moment of Jordan crying as he grasped the championship trophy, knowing how and for whom he'd won it that day.
So here's to the champions in all walks of life, those sons and daughters who pick up the mantle of responsibility, and try do the their best to honor those who came before them – those who showed them the right way to throw a ball, or how to raise a family. You may not throw four TDs on national television, but if you're one of those guys or gals, a glass is raised in your honor.
Cheers.
The author's father, pictured here, passed away on June 30th. This column is dedicated to all fathers and sons and the bond they share.