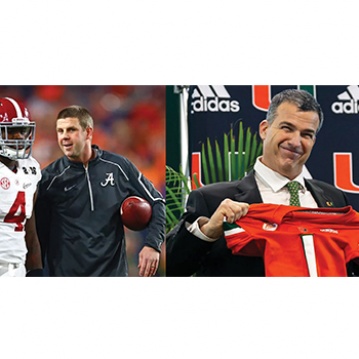 There are times when a person wishes for something to be over, either because it's painful, difficult, worrisome, or all of the above. A test, an operation, a bad breakup – all are examples of trying times in life when you just wish it were over and you could proceed to the next phase of your life. For me it was a simple choice:
2021. Regular readers of this column know back in June I lost my dad, and no matter how many times someone tries to tell you to move on, it's hard – damn hard. I realize I'm not the only person who suffered a loss this year, but the holidays add an accelerant to the firepit of emotion churning inside every time you hear a song, see a place, or experience an event that conjures up the memory of a loved one no longer with you. It might happen at the strangest of times.
For me, it hit home at the start of the football season, when I realized my dad wasn't around to complain about Gator football, or to reminisce about his days as a team physician for the then-Baltimore Colts. Like I said, grief will hit different people at different times and in different ways.
In our house, sports was always the great emollient. It was a unifier (and these days, boy do we need a lot of unifying).
When you couldn't turn on the TV because some political, moral or otherwise divisive situation threatened the peace of a family dinner, there was always sports to ride to the rescue. Some may think that shallow, but some families never even reach that point. I'm old enough to remember 1968. The country was torn in two by a divisive war, political assassinations, burning cities and campus riots. Yet at home the talk was of Earl Morrall leading the Colts to a 13-1 record, the playoffs and an eventual NFL championship. Trivial? Maybe. But I suspect mine was not the only house relieved when it was the sports page, and not the front page, that was the topic of discussion.
As for our sporting fortunes in 2021, they were, to borrow a phrase, no bueno. Collegiately, FSU football had its second consecutive losing season – and its coach survived! Mike Norvell might or might not turn the ship around, but at least he's still there. Both Florida and Miami fired their coaches. Hometown boy Mario Cristobal brings emotion and wins as Oregon's head man heads to the job at UM. Newcomer Billy Napier hopes his unique combination of energy and success on the recruiting trail translates to victories at UF. We shall see.
Professionally, the Dolphins started 1-7, but a soft schedule and improved play has them on the brink of the playoff chase. Is it Fool's Gold? Right now there's no way to know, but at least it's a step in the right direction. Jacksonville's Jaguars hoped a generational QB and coach Urban Meyer would kick-start a moribund franchise, but so far the only kicking being done is by the Jags opponents. The Buccaneers are solid, but when you have Tom Brady, a lot of stuff seems to go your way. Basketball's Heat and hockey's Panthers have yet to play half of their seasons.
So adios 2021. My resolution is to look ahead with positivity, and to wish every reader health, wealth and that your favorite team gets to pop some champagne.
Meanwhile, Happy New Year!!!