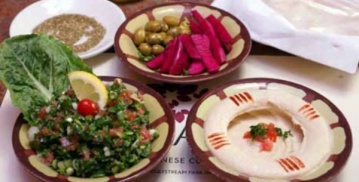 The Joy of Eating Healthy
Review by Rocco A. Quaglia
Suite 109 1901 N. Federal Hwy.
Pompano Beach, Florida
(954) 943 2999
A few years ago brothers Walid and Gus Zabib decided to bring the flavors of the Mid- East to America and opened up Shishka Lebanese Grill at the Pompano Fashion Square Mall. Whether you stop in for a snack, a meal to go, or sit down for a real Homemade Lebanese Feast you'll be in for a treat. Priced right and served with a smile, you're sure to enjoy every bite.
After you've had a chance to review the menu you'll be served with a traditional dish of sliced beets and green olives along with a plate of special spices to dip with. For appetizers try the Baba Ghanouj ($5.49), ground eggplant blended with garlic, tahini and lemon juice with a sprinkle of olive oil. This is a tasty spread on pita and colorful in the dish. Hummus ($5.49), is a similar dish made with chick peas blended with garlic, tahini and lemon juice with a sprinkle of olive oil. For something light and tangy try the Tabbouleh ($6.49), a mix of fresh chopped parsley, onion, tomato, cracked wheat, lemon juice and olive oil that will make your taste buds pop.
For an entre the Shishka Mixed Combo ($15.99), will sure to delight you. This platter features Kafta Kabob, a skewer of seasoned ground meat with diced onions and parsley; Shish Tawook, a skewer of chicken breast served with Lebanese garlic sauce; and Shish Kabob, a skewer of marinated lamb cubes, all served with rice and steamed vegetables. Another favorite is the Shawarma ($14.99), a mix of marinated chopped beef, lamb or chicken meat, slowly roasted and thinly sliced served with tahini sauce, rice and steamed vegetables. Some other specialties include Bamieh Stew ($14.75), made with sautéed okra, lamb, tomato sauce, cilantro and garlic and Moloukhieh Stew $14.75), green herbs cooked with meat, chicken, garlic and onion. Both served with rice and sure to satisfy your hunger.
For a Homemade Dessert try the Baklava ($4.99), layers of flaky phyllo pastry interlaced with a mixture of chopped nuts and honey, the perfect dessert for your sweet tooth. For something completely different try the Knafe ($4.99), this special Lebanese treat is made with a homemade cord cheese and topped with a sugar sauce. Don't forget to try one of the awesome pots of tea. The Green Mint Tea is super, just sip it straight.
If you're ready to party, have a Hookah Party in the Patio Area for Four. These large water pipes are filled with special flavors for your enjoyment ($12.00 or $17.00). Visit Shishka today for a taste of the Mid-East. Check out their entire menu at www. shishkagrill.com and visit them today for lunch or dinner.
Walid and Gus also want to welcome you to their New U p s c a l e L e b a n e s e Restaurant "Mijana", opening in October at Gulf Stream Park with full liquor license and 250 seats. See you there!