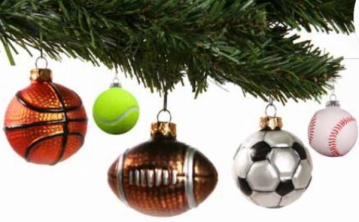 Traditionally, especially around this time of the year, sportswriters (including yours truly) start to look for ways to wrap up the sports year, and to do it in a way which both highlights the great achievements, as well as the humbling losses which dotted the landscape. Now, I've never been a fan of lists, and for our year end column, we'll give out our coveted "MT" awards to the winners and losers, but with the season of thanks upon us (or having just passed), this is a good time to be grateful for the blessings of having some wonderful sports items grace our presence this year (those following along at home, feel free to add your own entry at any time).
Thank you
– for the opportunity to watch the 2-time defending NBA champion Miami Heat - lead by the incomparable LEBRON JAMES - an immortal truly at the height of his powers.
Thank you
– for the chance to witness a remarkable tale of resilience in the city of Boston – where even if you're not a fan of the Red Sox, you watched a team raise the spirits of a city, while simultaneously winning a world championship.
Thank you
- for the opportunity to watch your favorite team compete in college football, with your good friends, and even though this may not be your year, the chance to share that uniquely American experience is priceless. (BTW, this goes double for you FSU fans this year).
Thank you
– for being able to take in the greatness that is NASCAR champion driver Jimmy Johnson, as he wins his 6th driving championship. I don't care if you're not a fan of the sport, you win six talent. of anything and you are special
Thank you
– for being fortunate enough to watch Wimbledon tennis champion- Andy Murray win the ships, and seeing how sports can be a force for good when it comes to national pride.
Thank you
– for the inspi- ration which comes from watching 64-year old Diana Nyad swim from Cuba to Florida, all the while having to battle dehydration, fatigue, Jellyfish and sharks!
Thank you
- most of all for men like Detroit-area high Parker who, when he and his school football coach Cory family found out his star inside LB Angelo Whittis was homeless, opened their home to him. That young man will now graduate, with honors, from River Rouge High School and is headed to college on a scholarship.
You see, while sports – at all levels - can be a repository for bad news, bad actors, and even worse actions, there are always those bright spots which make you come back.

And, boy are you glad you did.