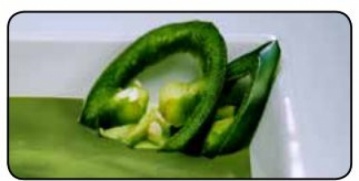 What better way to get your VEGGIES in...
caronb123@gmail.com / (561) 346-4577
Create a Delicious
BROCCOLI - DILL SALAD DRESSING
In a blender combine:

- 1 cup chopped broccoli stems
- 1/4 cup chopped celery

- 1/4 cup chopped fresh dill
- 1/4 cup extra virgin olive oil

- 1/4 cup water

- 1 teaspoon sea salt
*BLEND UNTIL SMOOTH*
OTHER VARIATIONS TO TRY

- Try adding one teaspoon lemon juice for a zestier flavor

OR
- Substitute basil for the dill to experience another variation I love this Broccoli - Dill dressing for

TWO REASONS:

1. This recipe is chock FULL of FIBER and is high in:
• CALCIUM
• IRON

• VITAMINS A & C
• POTASSIUM
• PROTEIN
A NUTRIENT- RICH POWER FOOD that gives lasting energy 2. This recipe uses the broccoli stalk which most people discard once they remove the florets. Don´t be fooled, gram for gram broccoli stems (stalk) contain slightly more calcium, iron and vitamin C than the florets! So two very GOOD REASONS to try this DELICIOUS DRESSING.
Caron Barr is a Holistic Healthcare Coach who has worked in Palm Beach County for over 20 years. Caron is a Registered Nurse who became interested in natural medicine after several years of hospital work and eventually feeling the extreme signs of stress (adrenal exhaustion). While HEALING herself she studied Alternative Medicine at Everglades University in Boca Raton, FL. It was there that she learned the tools to share her newfound passion. This lead her to a leading job at Hippocrates Health Institute where she worked with hundreds of guests helping them heal their bodies through plant-based nutrition and relaxation techniques. She is well versed in the diversity of people and health challenges South Florida brings.
Personalized Medicine is now in the forefront of healthcare. An individualized approach tailored to each of her client´s needs is a necessity in her work. Last year Caron founded Healing Housecalls, which brings her services into clients´ homes and offices.