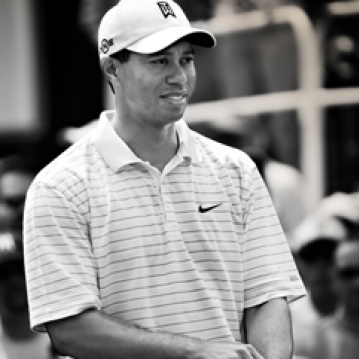 Mark Tudino is an attorney with offices in both Miami-Dade and Broward Counties, and whose practice specializes in all areas of civil litigation. He has lived in South Florida for over 20 years. Prior to attending law school, he was a political and sports reporter for television stations across the country. His career allowed him to cover everything from presidential elections to national championship sports teams, but he still maintains a passion to observe and discuss the world of sports.
I loved playing the game of golf since the age of 9, when I came home from school and found a starter set resting against the kitchen counter. It's not always a rewarding experience and for many years I stayed away from my clubs, much like you would stay away from an old girlfriend who you love to pursue but who, in the end, will always break your heart. I write this note not to wax nostalgic about a game many love, few master and even fewer still play competitively, but to ask all of us to contemplate the idea of forgiveness.
By the time this is published, the U.S. Open golf championship will have been played, and won, by someone at the Olympic Course near San Francisco, California. Entering the tournament the field will have many favorites: current world number one player Luke Donald, defending champion Rory McIlroy, crowd-pleaser and 5-time runner-up Phil Mickelson, as well as a host of other talented, but lesser known players. One name will dominate the eyeballs of the viewing public and no doubt many will look for his name when scanning the leaderboard.
Tiger Woods
The world's former number one player will be coming off an impressive win at the Memorial Tournament. The gathering hosted by golfing immortal Jack Nicklaus, traditionally boasts of one of the stronger fields of the year. But Tiger's progress – and standing – is not measured by smaller tournaments. He measures his success on his performances in the year's Major tournaments; the four championships held annually which are the most prestigious to win. Earlier this year at the Masters tournament Tiger played poorly; he failed to break par at a course where he won 4 times. The public's reaction was predictable: many golf fans were disappointed, yet many casual sports fans relished his struggles.
This brings me to this question: how long must a person pay for past transgressions?
In Woods' case his despicable personal behavior and disrespect for his marriage vows made him public enemy number one among many. Add to this, injuries, and a desire to revamp his swing, and you have a man who has not won a major title in more than 4 years. Anyone who's been through a divorce (with children), or known someone who has, can understand the pain and difficulty of reassembling one's life. But in Tiger's case, even if it was a self-inflicted wound - he's had to do that on the public stage and try to rebuild his professional career. Many want him to succeed and, judging by the number of viewers who tuned into CBS' golf coverage, even more are intrigued when Tiger is in contention. Maybe that fact is the true measure of values in our society: we won't let Tiger forget his mistakes but we secretly hope he returns to his winning ways. In that case, perhaps it's we – you and me – who need to look in the mirror and decide when enough is enough. If his children love their dad, and his friends have accepted him back into their lives, maybe it's time we did the same?