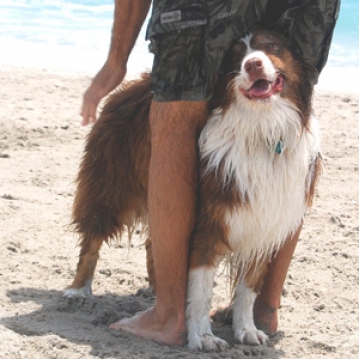 Before Leaving
• No dogs under four months old

• Absolutely, no females in heat

• Your dog should be calm, not overly anxious, so get a walk in
• Feed at least two hours before, so they don't get sick at the beach
• Pack water, bowl, toys, towels, bags, extra lead, sunscreen, camera.
• Leave valuables at home
• Make sure dog's collar is on with ID & current rabies proof (tag or certificate). Buckle or nylon collars preferred. Harnesses, choker/prong collars can injure your dog/others
• Bring your dog on a nylon or leather 4 – 6 foot lead
• NO retractables or flexileads
During, Remember: BARK, PUP
• Be Aware, Responsible & Kind, Pick Up Poo

• Verify collar and tags are secure, unclip the lead, as you hit the sand

• Supervise and be responsible for your dog at all times ~ pick up immediately
• Allow dogs to approach and smell one another, supervise children at all times
• If your dog acts annoying or grouchy, leave and try another day

• Try to limit your dog's salt water intake
• Make drinking water available
• Do NOT treat or feed your dog (or others) while at the beach. This can cause a dog fight and/or make the dog sick

• Watch for signs of overheating
• Keep your dog off the dunes (sea oats)
• Absolutely NO digging near turtle nests .
As you exit
• Clip on your dog's lead to go back to the car
• Rinse the dog with fresh water and towel dry

Back at home
• Bathe, as needed
• Your dog will probably be tired and need rest
• Offer fresh, room temperature water and later, food.