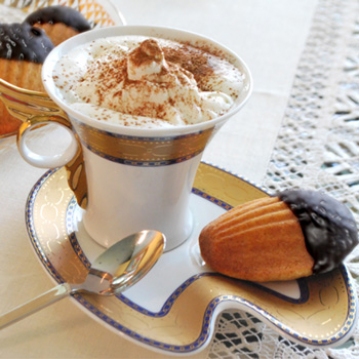 12 Madeleines

INGREDIENTS:

5 Tbsp unsalted butter (room temperature)
5 Tbsp sugar
2 Tbsp light brown sugar
Zest of one orange
1 Tbsp honey
Pinch of salt
2 eggs ( room temperature )
10 Tbsp all-purpose flour
1tsp baking powder
Cooking spray and flour for greasing pan

PREPARATION:
Preheat oven to 375 F.
Coat pan with cooking spray, dust with one tablespoon flour.
In a bowl sift flour and baking powder.
Beat the butter until it has the consistency of cream. 5. Still beating, add sugar, brown sugar, salt, orange zest and honey.  6. Add eggs one at a time, beating well after each addition. 7. With a pastry spatula and stirring motion, gradually incorporate the sifted flour. 8.  Pour batter into prepared pan. 9. Bake at 375 for 6-7 minutes and then broil for 1 minute or until lightly browned. 10. Remove from oven, let cool for few minutes and then carefully remove from pan. Cool completely on wire racks.

Ganache
INGREDIENTS:

4 oz. chocolate (70 % cacao), chopped
2 1/2 Tbsp light corn syrup
5 Tbsp heavy cream

PREPARATION:
Place the chopped chocolate in a medium bowl.
In a small saucepan, add the corn syrup and heavy cream over medium heat. 3. With a wooden spoon stir until boiling. 4. Remove from heat, pour over the chocolate and whisk with a small wire, stirring until smooth. 6. Dip half of the Madeleines in the ganache and let cool on wire racks for 1-2 hour.
The Madeleines, once they are cold, should be stored in an airtight container.