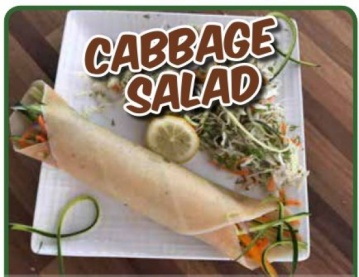 INGREDIENTS 
1. 1/2 medium head Cabbage, finely shredded
2. 1 Carrot, finely grated
3. 1/4 cup Onion, thinly sliced

4. 1/2 fresh dill, chopped finely

5. 1/4 cup Organic olive oil

6. Bragg liquid Aminos , to taste(salt substitute)

7. 1 Lemon or lime, juiced
PREPARATION

1. In a large bowl mix cabbage, carrot, onions and dill.

2. Add Lemon juice, Bragg liquid aminos , and olive oil.

3. Toss everything well.
NOTE:
Leftovers keep well for a several day in the refrigerator. Makes delicious wrap on top of hummus.
---
Chef Olga Keller is committed to bringing great tasting living foods, plant-based nutrition to the masses. Learn more about Chef Olga at www.olgakeller.com.