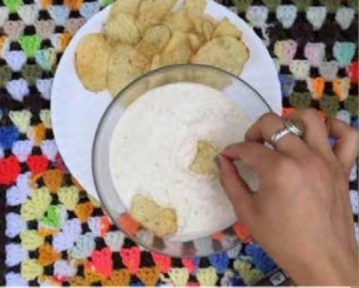 PREP TIME: 2 minutes // SERVINGS: 5
Besides serving this vegan sour cream dip with potato chips as shown in the photo, this is a very versatile condiment and can be included as part of a Mediterranean diet.
For example, instead of chips, you can enjoy it on steamed or roasted potato wedges, or use it to top your baked potato. And of course, we can't forget the veggies! I like this onion dip with raw carrots, celery, cucumbers, radishes, bell peppers, broccoli and cauliflower. Or if you prefer cooked vegetables, try it with seasonal roasted vegetables.
Ingredients
• 1 pkg. onion soup/dip mix (look out for beef flavoring in some brands)

• 16 oz. vegan sour cream (or make vegan sour cream as shown below)
Instructions

1. Combine the onion soup/dip mix and vegan sour cream and mix well.
2. Chill in the refrigerator for at least 30 minutes.
(This is optional.)
3. Enjoy with veggies, chips, or whatever your heart desires!
Vegan Sour Cream
Ingredients
• 1 cup raw cashews, soaked for at least 4 hours if you do not have a high-powered blender
• ½ cup water

• 1 tablespoon lemon juice, or more if needed

• 1 teaspoon apple cider vinegar

• Heaping ¼ teaspoon fine sea salt

• ¼ teaspoon Dijon mustard
Instructions

1. Soak your cashews, drain and rinse them until the water runs clear.
2. In a blender, combine the cashews, water, lemon juice, vinegar, salt, and mustard. Blend until the mixture is smooth and creamy, stopping to scrape down the sides as necessary. If you're having trouble blending the mixture, or would prefer a thinner consistency, slowly blend in up to ½ cup additional water, as needed.
3. Taste and add an additional teaspoon of lemon juice if you would like more tang, or additional salt if a more intense flavor is desired.
4. Leftovers keep well chilled for about 5 days. The sour cream will thicken up a bit more as it rests; you can thin it by whisking in a small amount of water later if necessary.
Notes: CHANGE IT UP: Add 1 tablespoon nutritional yeast to give cream a more cheese-like flavor.
Recipe courtesy of People for the Ethical Treatment of Animals (PETA) which is the largest animal rights organization in the world with more than 6.5 million members and supporters. Visit PETA.com for more information.